Cowgirls surge over Waxahachie in first Coppell & Marcus Tournament game
While students sat in their fourth period classes yesterday, the Coppell softball team hosted its first tournament this year and won, 6-3, against Waxahachie in the process.
The Coppell & Marcus Tournament is being held at the Coppell ISD Softball Complex from Thursday to Saturday and will bring an end to the Coppell softball team's preseason. 
The Cowgirls got off to a good start and scored runs early on in the game. One of the most defining moments came during the second inning. 
"Michaella pitched this game and we had bases loaded," Coppell junior catcher Dafne Mercado said. "It was in the second inning and the girl who was up to bat was a really good hitter and I think we were able to come through and help Michaella get the third out so we could go back up to hit." 
The Cowgirls remained confident and kept the energy up as well by incorporating lessons from previous games. 
"We were able to execute more plays on the field." Mercado said. "We had a lot of errors last game and it was nice to see that we put in the adjustments." 
Going into the rest of the tournament, the team looks to remain more consistent and spread out the number of runs through each inning rather than build them up during one inning. 
In addition, they are looking to stay positive through each game. 
"We can improve on our mental state," Coppell junior shortstop Sydney Ingle. "A bunch of people on the team kick down on themselves after one bad play or one mistake and improve that to where we stay calm and confident in what we do." 
The Cowgirls play Ennis tomorrow at 11 a.m. and Cedar Hill at 3 p.m. at the Coppell ISD Softball Complex.
Follow Anika (@AnikaArutla) and @SidekickSports on Twitter. 
About the Photographer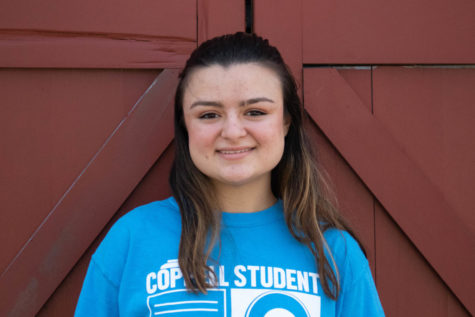 Bella Mora, Staff Designer
Bella Mora is a senior and third year graphic designer on The Sidekick. In her free, time she enjoys listening to music, watching movies and drawing. Outside...