Artists painting it grand for Big Art Day
Students peer over each other's shoulders as Coppell High School National Art Honors Society members dip their brushes into smooth, tiny paint containers. One more stroke of midnight blue paint and a student jumps up, only for their seat to be taken by another eager patron. 
March is National Youth Art Month (YAM), and Big Art Day is celebrated across schools in Texas on March 5 to raise awareness for art education in communities. NAHS hosted an art happening featuring face painting and an interactive mural during all three lunches for students to experience and enjoy. 
"It's fun to do [an art happening] because what we do normally are projects made in the classroom [that are] product-focused," CHS art teacher David Bearden said. "We sometimes forget that the experience and process is equally, if not more, important."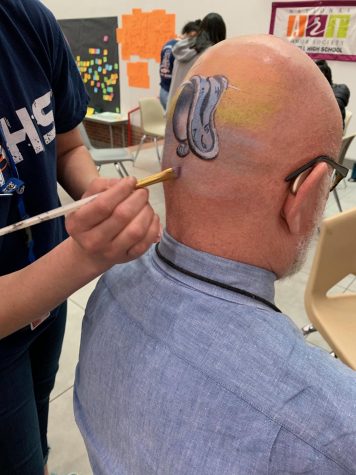 Planning for YAM begins in November, where students submit work for the YAM State Capitol Exhibit. In the weeks leading up to Big Art Day, NAHS students decided on showcasing more tangible forms of art to better involve peers outside of the program. 
"I [was there] because it [looked] fun," CHS sophomore Kaia Miller said. "[Face painting] brings in more people. You don't have to take an art class to be involved in art." 
Along with face painting, NAHS also hosted an interactive art mural. Students were provided with sticky notes and markers to draw on and paste to a black sheet. 
"Drawing is kind of that underlying art-making we all do as children, and then some of us stick with it, and some of us go another way through life, but it becomes not such an important part of our life," Bearden said. "The idea is that I give them a little taste of several different ways to make art and with the idea of broadening the definition of what can be art, ultimately, some people can argue that anything can be art." 
Several campuses across Coppell ISD are hosting their events to showcase students' art, including Lakeside, Mockingbird and Pinkerton Elementaries, as well as Coppell Middle School West. The complete list of all Big Art Day events in Texas, along with timings and locations, can be found here. 
"I hope people just realize how fun it can be to just express [themselves] creatively through art," CHS sophomore NAHS member Harshini Bapanapalli said. 
Follow Akhila (@akhila_gunturu) and @CHSCampusNews on Twitter.