Cowboys soar past Hawks, celebrate district victory
"We are the champions," serenaded the CHS Arena as senior guards Adam Moussa and Brandon Taylor cut down pieces of the net.
Yesterday, Coppell concluded its District 6-6A play with a victory against Hebron, 85-53. The Cowboys (12-2) won the district title. 
The Cowboys kept a steady distance from the Hawks by keeping their energetic momentum, with players such as Moussa scoring three consecutive three-pointers, bringing the score 63-43 at the end of the third quarter. 
"After you hit one or two, you just start [feeling], 'you know what, next time I touch it, I'm going to shoot it' and then you go with the flow; [and] it just happens to go in," Moussa said.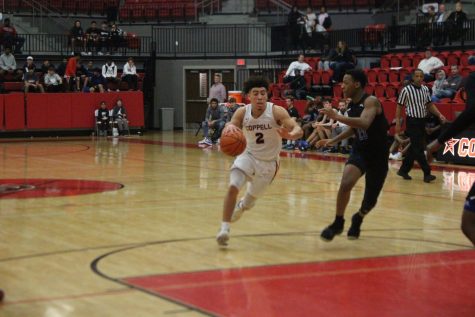 Towards the end of the fourth quarter, senior forward Clayton Hunter was able to steal the ball from Hebron, one of many turnovers forced by the Cowboys, and dunked, sending the crowd  into a frenzy. 
The Cowboys, however, came into the game confident and relaxed after clinching the district championship after last Friday's game against Irving MacArthur. 
"I was proud of them for coming out," Coppell coach Clint Schnell said. "It was a game they did not have to win or lose to decide their fate anyway. I told them it was kind of a warm-up game for the playoffs."  
Even though the Cowboys entered the game with this momentum, things were a little sloppy in the first half with Coppell turning the ball over a bit. Eventually, players such as Moussa (13 points in the game) and sophomore forward Ryan Agarwal (8 points) helped the Cowboys lead 40-25 at halftime. 
"I probably should have moved the ball a little a couple more times on fast breaks instead of trying to go for it by myself and just [play] better defense," Agarwal said. 
While the Cowboys are celebrating their victory as district champions two years in a row, the team is preparing for the upcoming playoffs. In order to make state, the team must win seven playoff games. 
"I think we are going to make a deep run," Schnell said. "It has been about 16 years since Coppell has made it past the second round of playoffs. [The players] wanted to get to the third round so we are going to work hard to make that happen, and if things go our way, we have a good shot at it." 
Playing pairings and sites are to be determined.
Follow Nishant (@Nishantnm1) and @SidekickSports on Twitter.