On the Spot: Student Council building community of love with Valentine's Day hearts project (with video)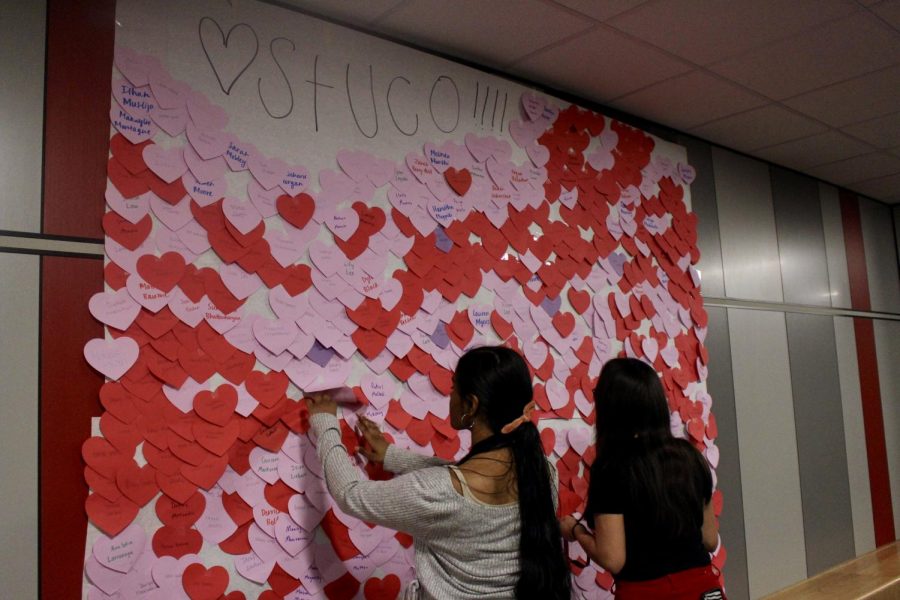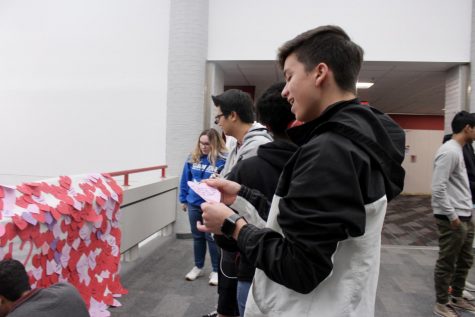 Red and pink hearts filled with compliments line Coppell High School's halls today. For the second year, Student Council has brightened every student's Valentine's Day with personalized notes written on heart-shaped cards.
"Getting a note from Student Council is really nice and it's great that they chose to do this for every single student," CHS senior Nicholas Quilens said. "It's great that Student Council put in the effort to make everyone feel special and appreciated for Valentine's Day."
As tomorrow is a Coppell ISD professional development day and students will not be at school on Valentine's Day, Student Council put up the heart-shaped cards a day early this year.
"Making the hearts for every student shows how much the school and Student Council cares about every student," CHS senior Thomas Capdevila said. "It helps give each person a little bit of extra happiness and makes everyone smile."
The hearts are spread across campus in three locations. Seniors' notes are on the upstairs senior bridge between C and B hall, juniors can find their notes in downstairs C hall and sophomores' compliments are in A hall.
"[Student Council] hopes to provide everyone with some happiness on Valentine's Day," CHS senior Student Council parliamentarian Diya Patel said. "We try to make sure everyone has a personalized and unique note."
Student Council strives to add unique touches to every student's notes. Council members are encouraged to write notes for their friends to include more detail that is specific to each individual and every note is signed from Student Council.
"Doing small things like putting up hearts with compliments helps create a connection between the school and the kids that go [to CHS]," CHS sophomore Rishita Ravipati said. "The hearts are fun and go a long way in making everyone smile a little on Valentine's Day."
Follow Emma (@emmameehan_) and @CHSCampusNews on Twitter.
About the Contributors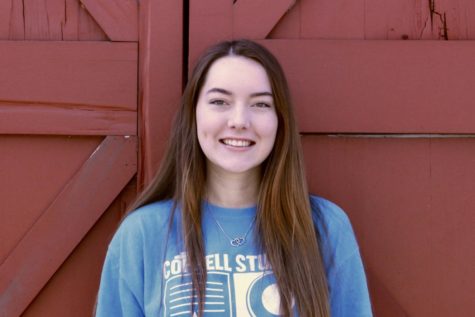 Emma Meehan, Staff Writer
Emma is a senior and second-year writer on staff. She likes to read about politics and history, hang out with friends and do yoga. You can reach her at...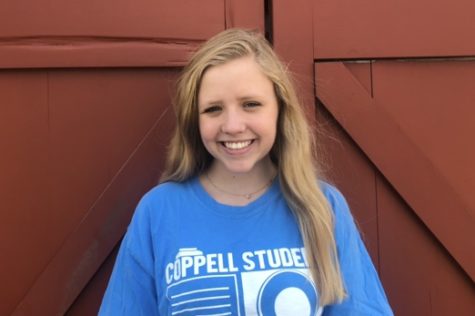 Charlotte Vanyo, Visual Media Editor
Charlotte is a senior and the Visual Media Editor for The Sidekick. You may have seen her dancing and singing around a stage in a local musical or volunteering...