Tramel claims three school records in breakout season (with video)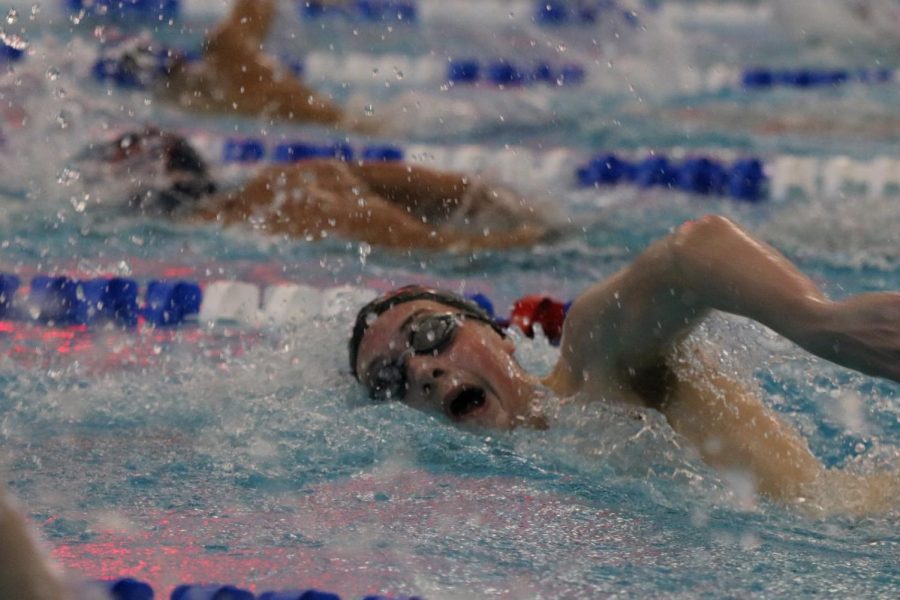 Eyes glance to the clock momentarily during the turns of the 500-yard freestyle at the District 5-6A championships at Lewisville ISD Westside Aquatic Center. After the final lap is finished and his fingers have touched the concrete edges of the pool, Coppell junior Cole Tramel lifts himself from the water.
The time on the clock,1:44.44, shows he has beaten his second school record that day, the first being the 200-yard freestyle with a time of 4:42.47.
Then, at the Class 6A Region II Swimming and Diving Meet two weeks later in the same pool, he does it again – this time for the 400-yard freestyle relay with a time of 3:16.13. 
Tramel's first few years on the Coppell swim team seemed fruitless, as his times remained the same through all of the effort he put in, making it feel like wasted work. 
"This season was [Tramel's] breakout season," Coppell coach Marieke Maestebroek said. "He was always a good swimmer, but it was nothing compared to what he's doing now. He was always putting in a lot of effort, but he wasn't seeing any results. Now, I imagine he'll break the records he has set again."
Although Tramel's work ethic has not wavered, he spends less time overanalyzing and instead simply puts forth his best effort. With this mindset, he has seen improvement in his performance.
Coming into the District 5-6A championships, Tramel's expectations for his performance were low. After missing practice due to sickness in the days prior, his main focus was qualifying for the regional meet.
"Once I started swimming, I was just going really fast and I thought, 'OK maybe I can get the school record today' and then yeah, I did," Tramel said. "Going into high school, I kind of thought I could break the records at some point, so I've been hoping to do that for a while. It's just a goal I've worked towards for a really long time that's motivated me throughout swimming."
This past weekend, Tramel and the Coppell relay team [seniors Johan Pretorious and Ben Borchgardt and junior Ivan Lau] set a new record time for the 400-yard freestyle relay.
"I hadn't really done well on Friday and I wasn't feeling as good as I had at district, but I still wanted to be as fast as I could," Tramel said. "I was just trying to do the best I could with the way I felt."
For Tramel, the best aspect of swimming is being able to improve himself and see his progress throughout the years.
"When I was younger, I was pretty out of shape and I was trying to lose weight and get fit, so I joined the YMCA swim team," Tramel said. "I like having to improve yourself and being able to do better than you did a year ago. [Swimming] is kind of a team sport but a lot of the things are individual because it's your time you focus on. For me, it's really fun to drop times."
After beginning his training at the Coppell YMCA, Tramel joined the Lewisville Aquatic Center National Group, which he swims with today. Instead of practicing with the Coppell team each morning, Tramel has an arrangement where he swims for the Lakeside Aquatic Club two to two and a half hours a day.
"Cole's work ethic is one of his most impressive characteristics," Coppell junior Neil Upreti said. "When he wants to learn or accomplish something, he doesn't stop working towards it until he achieves the level of success he was striving for. I have AP Computer Science with him and he does what is expected in class but also codes relentlessly in his free time, viewing every challenge as an obstacle to overcome. I believe his ability to intrinsically motivate himself contributes to his success. The same is true in the pool, as all these values directly transfer."
What propels Tramel in the pool, though, is different than what keeps others swimming.
"Obviously I have coaches and friends on the team who encourage me, but I feel like most of the encouragement comes from myself," Tramel said. "It's a difficult sport that you need to practice every day and I don't think you can succeed if someone else is making you do it. You work and you do all this stuff every day, and you don't see any tangible gain for each of those things, but once you finally do have a good swim, it's a culmination of all those efforts."
Follow Anjali(@anjalikrishna_) and @SidekickSports on Twitter.