Cowboys defeat Flower Mound for district top spot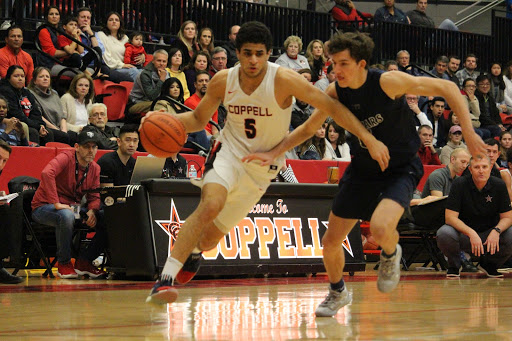 With only a few minutes left in the fourth quarter, Coppell sophomore guard Anthony Black slams a dunk against Flower Mound. Then, almost immediately after, he slams another. The cheers from the crowd are deafening, and the fate of the game is sealed.
"When Anthony scored those two dunks, that was a really big game changer," Coppell junior forward Obi Odimegwu said. "It changed the entire mood of the gym and got everyone loud. It just totally changed our momentum."
Black's dunks were just one of many defining moments in yesterday's game. Coppell defeated Flower Mound, 66-56, improving its record to 9-2 and holding first place in District 6-6A. However, this win did not come easily.
The game was back and forth throughout. Flower Mound took the early lead at the start of the first quarter with a score of 12-9, but was quickly overturned by the Cowboys. The quarter ultimately ended with the Cowboys leading, 20-12, and from there, the lead grew. Coppell was up, 39-29, by halftime.
However, Coppell lost momentum in the third quarter, only scoring a total of six points. On the other hand, Flower Mound made a stunning comeback, closing the gap and overtaking the Cowboys, 47-45.
"In my head, I was just trying to stay calm so the guys would stay calm," Coppell coach Clint Schnell said. "I told them early in the game before we played that there's going to be some run-ins, they're going to make some shots. And there in the third quarter, that's what happened. They did a bunch of big shots and got back in it, and during the time out, I told my guys that 'hey, that's their momentum swing, we've got to get it back.'"
And the Cowboys did get it back. 
When the fourth quarter began, Flower Mound was up by two points. However, the Cowboys forced a series of turnovers, making shots and and taking control of the game. 
"Just playing hard, getting stops and rebounds at the end, and forcing them to miss shots — that's what won us the game at the end," Black said. "We just had to respond to their run with a run of our own. So we stayed with it and told each other to stay locked in. And the coach helped us out and we were able to stay focused."
On top of Black's last-minute slam dunks, Coppell sophomore guard Ryan Agarwal scored eight points in the last quarter, six of them on 3-pointers. Senior guard Adam Moussa also made a series of 5 successful free throws and a tip-in, adding six more points at the end of the game.
"We're just going to try and keep it rolling. We have three games left, and if we win all three, we're district [champions] again," Schnell said. "We're going to take the momentum from this one and keep going and see how it ends up. At this point, every one of our games are huge because we've got the advantage on everybody as long as we don't lose another one. So we don't want to give that up."
Coppell plays at Nimitz on Tuesday.
Follow Joanne (@joannekkim) and @SidekickSports on Twitter.