LaMendola perseveres through injury, excels as freshman on varsity
From years of playing for fun in her family's driveway to playing competitively on the varsity girls' team, basketball is an integral part of Coppell freshman guard Julianna "Jules" LaMendola's life.
LaMendola, who comes from a family of athletes, has had a passion for sports her entire life. Her mother was a student athlete, her twin sister freshman right side hitter Skye LaMendola is on the varsity volleyball team and her brother senior linebacker Max LaMendola is on the varsity football team. Being surrounded by an athletic family has fostered a strong sense of competition in Jules's life, which is evident in her success with basketball.
To Jules's mother Janice LaMendola, who played volleyball and basketball at the University of Arkansas at Little Rock, her daughter's experience is indicative of the values participating in athletics brings.
"You learn a lot of great values that you can use for the rest of your life," Mrs. LaMendola said. "You learn how to be a team member, how to schedule your time between academics and sports, how to be a leader, how to compromise, how to persevere, and how to move through winning and losing."
Before moving to Coppell ISD in eighth grade, Jules attended Greenhill School in Addison. While she mainly played volleyball at Greenhill, she shifted her focus to basketball in Coppell.
"[The move to Coppell] was definitely an experience, because here, it's way more competitive and it's a new lifestyle," Jules said. "Greenhill was kind of like a bubble, and this popped that."
When Jules tried out for the basketball team, she immediately loved the culture and decided to make basketball her main sport during her high school career.
"We're trying to build a winning culture and I like being a part of that," Jules said. "I love the people, I love the coach [Ryan Murphy], and it's just a great environment to be in. It's very competitive and it makes you want to be better."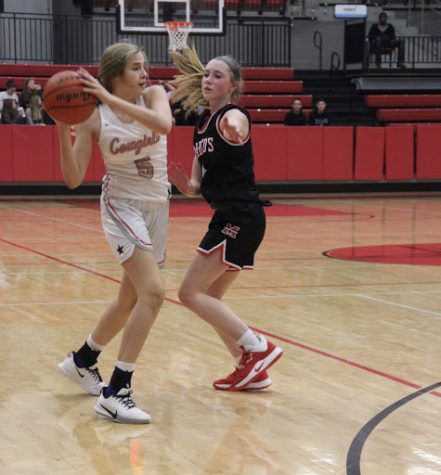 Although Jules is one of only two freshmen on the varsity team, she was quickly welcomed by all the upperclassmen. Despite thinking it was scary to play with upperclassmen at first, Jules found they were kind and taught her what the program was all about.
During her first few months on the team, Jules quickly showed great potential. Against Kennedale, she led the team by scoring 14 points. She also led the team in the Classic Chevrolet Coppell Showcase with an average of 8 points per game.
Coppell sophomore power forward India Howard noted not only Jules's talent on the court, but also her lighthearted nature that made her easy to work with. 
"She's good at seeing the court and whenever she attacks, she's versatile," Howard said. "She also brings us a lot of laughs. We joke around with her and tease her all the time because she's a freshman, but she has fun and doesn't take it to heart."
Jules suffered an injury in November and was not able to play for most of the district season. She was out for two months, as she had torn a ligament requiring foot surgery.
"This has been the hardest thing I've ever had to go through, mentally and physically, because it took away basketball, and it took away a part of me," Jules said. "The healing process was hard because I tried to push myself to the limit every time, but it takes a while to see the progress, and that's been really hard for me.
Despite suffering a major injury, Jules took care of her body and pushed herself in her physical therapy sessions. Although her expected return time was after the district season, her hard work paid off and she was able to play in the game last Friday against Flower Mound Marcus.
"She would still come to our practices and watch us and support us," Howard said. "She didn't just sit back and let the injury take over her, she took control of it, and therefore, she got healed a lot faster than her expected time."
Follow Avani @AvaniKashyap03 and @SidekickSports on Twitter.