Faces of CISD: John Bokon (with video)
Faces of CISD is a Sidekick series in which executive news/enterprise editor Pramika Kadari profiles an influential member of Coppell ISD to commemorate the district's 60-year anniversary.
Coppell ISD bus driver John Bokon moved to Texas five years ago and deeply enjoys his job. Prior to working in CISD, he worked at Lewisville ISD for two years. 
What do you enjoy most about your job?
My kids are all grown, my granddaughter is up in northern Michigan with my son, so I don't see her very often. So, just the interaction. I got a bunch of elementary kids – they told me those kids were trouble, but I got them getting off the bus [one] seat at a time. They enjoy riding with me. They're fun.
How is driving for CISD different than for Lewisville ISD?
This is way better. Way better. I was a sub driver there for two years, so I picked up and delivered kids to every one of their 66 schools. I've never had a group of high schoolers as polite and nice as the ones I have here.
How is driving high schoolers different than driving younger kids?
Noise level. My high school kids are very quiet, it took me a while to get the elementary kids to an acceptable volume level, for a while. But they're kids. They're fun. The kindergartners and first graders all sit up front, and they tend to be the noisiest, but they're easy to calm down. Middle schoolers are right in the middle. They're growing out of that little kid thing, but not into the teenager thing yet. It's sometimes funny what you hear them talking about; it's silly.
What do you enjoy doing outside of your job?
I'm a musician and an artist. I've been playing drums ever since the fifth grade, but I have no desire to be in a band at my age. I had a graphic arts business [called Paintin' Place] in Michigan for a while. I was a commercial artist. Now, I paint and do artwork just for fun.
What got you into drums?
I was very young. Watching "The Lawrence Welk Show" on TV with my mom [got me into drums] when I was really little. I started playing at 10, and I was in all the bands all through school. I was really good at it; I was first chair from fifth grade to 12th grade, undefeated except for in ninth grade, I took second chair to a senior. Way back then, I got my varsity letter in band, which was a long time ago.
Where did the name "Paintin' Place" come from? 
There used to be an old soap opera on TV called "Peyton Place" – one of the first soap operas that my older sisters watched. So I just kind of picked up the name from that.
How long did you run Paintin' Place?
I ran my parents' greenhouse business for a lot of years, and I started that company out of the garage. But then I moved it full-time to northern Michigan in 1998, and pretty much ran it for 15 years or so, if you count the part-time years. And I did airbrushing, which is kind of a lost art. Airbrushing is like a high-tech spray painting. 
Do you still enjoy creating art? 
I used to do painting and graphics for a living, and there was always a time clock. So now that I'm down here in Texas, and I'm just painting for fun, I don't have any time clock. I can do it at my own pace. If I feel like doing it tonight, I do it tonight, if I don't, I don't. And what I've recently done is combine the airbrush with acrylic paint brush painting and came up with some pretty cool stuff.
Do you have any pet peeves related to the bus driving job?
People who run our red lights. It's unbelievable how many people will run the red lights [on my bus stop sign]. In the five years now, I know at least 300 people have done it, which is ridiculous. It's extremely dangerous. And it's a very expensive ticket, but the only way a person can get that ticket is if a police officer sees it. 
What are some of the challenges of the job?
In this area, the traffic. The kids can be, but it depends on how you handle them. You can't be a drill sergeant all the time. You've got to be firm, but you've got to show some love, too. Some caring about them. It pushed the elementary kids to understand that everything we're gonna do is to keep them safe. They used to push everyone off the bus before I came here; now, they get off [one] seat at a time. That I would credit to some of the fifth grade girls and boys who I made bus monitors, to help with what's going on in the back. They've been great.
Follow Pramika (@pramika_kadari) and @CHScampusnews on Twitter
About the Contributors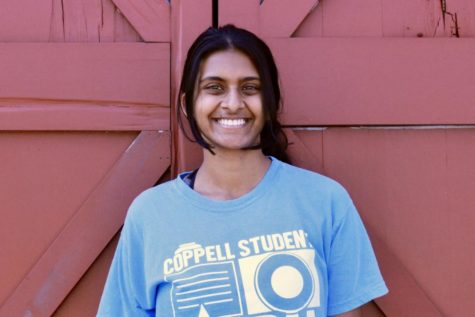 Pramika Kadari, Executive News and Enterprise Editor
Pramika Kadari is a senior and the Executive News/Enterprise Editor on The Sidekick. In her free time, she enjoys reading, writing, watching movies and...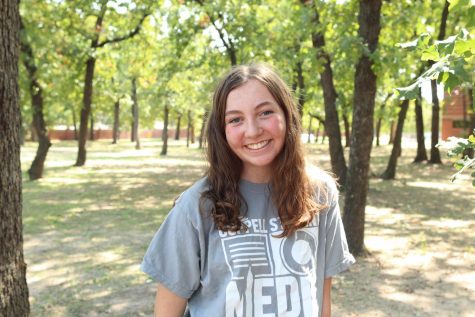 Blanche Harris, Social Media Manager
Blanche Harris is a senior and social media manager for The Sidekick. At school, she is the Choir Historian for Coppell Choir. Outside of school, she loves...