City researching solutions to handle new state tax law
Coppell plans ahead as stands to lose millions in funding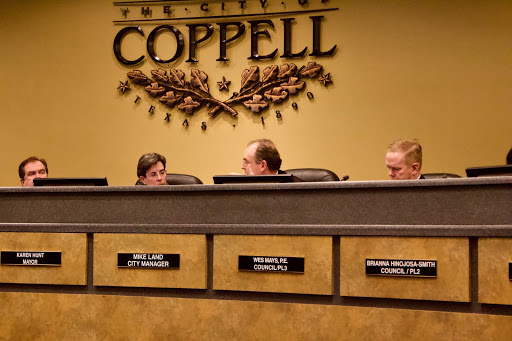 Tuesday's Coppell City Council meeting saw the announcement of a new state tax law that mandates the change of sales tax revenue based on origin to destination source, leading to 16 percent of Coppell city general fund being in danger. 
The law, Texas Administrative Code Rule 3.334, will be implemented on April 1 and has put several relatively small cities like Coppell in some trouble. Over the past two weeks, the city took time to discuss options on how to approach the law without causing too much disruption to its fiscal account. 
Coppell City Manager Mike Land took the initiative to visit the office of the Texas Comptroller of Public Accounts and pose questions and concerns. City representatives will also be traveling to Austin on Feb. 4 to provide testimony to the state comptroller on their comments related to the rule.
"One of the questions that we've been asking all along is why this rule and why now," Land said. "We found out that the controller views some bad players out there that have done some things that they believe are not in the best interest of cities in the state of Texas as far as how sales taxes are handled. So, therefore, they have developed this rule to specifically, thereby prevent those kinds of deals from being struck… It's a kind of a scorched earth policy."
According to Land, the Texas Comptroller's office made it clear the rule is here to stay despite the difficulty it might bring. Currently Coppell is trying to use study data it already has to more accurately gauge the effect the law will have on its funds and Coppell businesses.
The current general funds sales tax is about $19,770,000, and the rule going into effect will cut it by 60 percent, which amounts to around $12 million lost. Because the law is going into effect in the middle of the year, Coppell will only lose $6 million. Similarly, Coppell collects approximately $6 million a year of sales and use tax from businesses, which would see a $3.6 million reduction per year. Other avenues of Coppell's tax income will also see a 60 percent reduction.
The city plans to make up the revenue by tweaking other revenues and balancing its budget. For example, Land talked of raising the cost of the water-sewer fund reimbursement amongst other opportunities. In the worst-case scenario, Land said, the board will consider cutting back on city government services, such as restaurant inspections, and small cuts in funding across the board. The city will continue to address the issue in coming meetings as it remains a developing matter.
A resolution calling for the General Municipal Election for Council Member Places 1, 3, 4, 5 and 7 for May was passed. The board also authorized Mayor Karen Hunt to execute a Joint Election Agreement with Dallas and Denton Counties.
Hunt reported Coppell will have its fourth fire station open in West Coppell near Wagon Wheel Park to reduce emergency response times in the area.
The city also announced the bridge that leads to The CORE's main entrance is scheduled to open Feb. 10. The city also announced that the Coppell Cozby Library and Community Commons was rated in the top 10 percent of Texas libraries for the fifth consecutive year, and was awarded an Excellence Award.
Council member Wes Mays signed up Coppell to the National League of Cities subcommittee several months ago. Now, its Committee on Transportation and Infrastructure is in the process of preparing a legislative agenda to take to the U.S. Congress, and have asked members to provide input. 
"I am soliciting input from fellow council members from the city staff, and from citizens on transportation related items that need to be brought to our federal legislators and attentions," Mays said. "If you have anything to submit, I've requested to send it to my council email."
Follow Akif (@AkifAbidi) and @SidekickNews on Twitter.