Recommendation letters aid in celestial experience
Earth is a small insignificant factor in the equation of the universe and programs such as NASA spend many resources exploring the world outside this planet. 
Every year, it brings in high school students from across the state to help in the age of new discovery through the Texas High School Aerospace Scholars. 
The Aerospace scholars program admits only juniors. This year, nine students were selected from Coppell High School: Hannah George, Fiona Lopez, Abigail Simon, Mattthew O'Quinn, Calen Halcom, LeeAn Zhong, Marcos Morales-Martinez, Akash Vijay and Greg Sabancuyan. 
The past few years, every student who applied from CHS has been accepted. This is largely due to STEM teacher Pilar Castro-Zena. 
"Ms. Castro, the way she structured the class, it brings everyone up through a kind of structured course to make everyone stay on task and get to where she knows we can be," Halcom said. 
In addition, Castro-Zena teaches all of the students who apply to the program their sophomore and junior years, allowing her to write extraordinary recommendation letters. 
"The letter of recommendations that I write, take me a whole day for each student," Castro said. "I go to their portfolios, I see their designs. By the time they're juniors, I have had two full years to know them. I put my heart into those letters." 
To apply for the program, students must be  U.S. citizens, high school juniors and Texas residents. Students must also be interested in the STEM field, have access to the internet and fully committed to completing online lessons. Furthermore, they write an essay explaining their interest in the program and the STEM program. 
The program is 16 weeks and includes interactive lessons on NASA activities related to space exploration, design challenges and virtual chats with NASA engineers and scientists. 
"In general, it's cool learning more about NASA," Lopez said. "They teach you a lot more science and math that I wouldn't have known." 
If the program is completed, students have the opportunity to travel to Houston through a six-day summer experience at NASA's Johnson Space Center. They will be able to tour NASA facilities, participate in team projects and briefings directed by NASA engineers and scientists and a hands-on design challenge to plan a mission to Mars. 
After completing the program and the summer experience in Houston, there is an internship opportunity to further work with NASA. 
"It gives me an experience that hardly anyone gets to receive before going into college and trying to apply what they've learned previously in that professional setting," Halcom said. 
Follow Anika (@AnikaArutla) and @CHSCampusNews on Twitter.
About the Photographer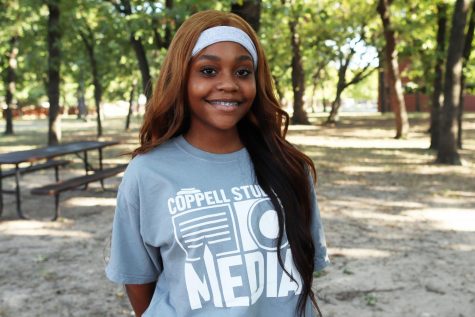 Kyah Jones, Staff Photographer
Kyah Jones is a junior and second year staff photography of The Sidekick. In her free time, she likes to take pictures and spend quality time with her...