Decade Wrap-Up: Old fashion says goodbye but not forever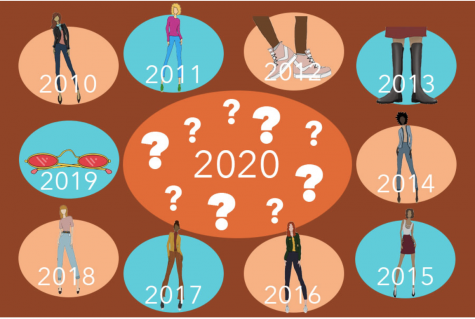 The 2010s were known for a lot of things, such as The Harlem Shake and Rebecca Black's "Friday", but when we think fashion during the 2010s, what comes into our brains? These fashion trends from the last 10 years will hopefully bring back memories, each one unique in their own way.
In 2010, a popular article of clothing was the motorcycle jacket. Celebrities, kids and teens alike either had one or wanted one. With black leather, high pockets and a short collar, these jackets looked sleek and cool.
In 2011, neon was popular. Many hopped on this trend like it was the 1980s again. Brightly colored socks, shoes and sometimes dresses. They were attracted to its numerous uses, as neon could be dressed up, down or even worn as workout clothes. 
In 2012, the wedge sneaker hit it big. Though they are typically associated with hip hop, in 2012, it was one of the most popular street style trends. These shoes were comfortable to move around in and had a cool style moving them to the streets. 
In 2013, we have tall flat boots. We all know these brown or black suede boots that hit mid calf with the flat rubber soles. These were seen everywhere. Rihanna wore them numerous times on stage and so did elementary schoolers on playgrounds. These shoes became popular because of the flatness of the sole making them easy to move around in, but they were much nicer looking than a tennis shoe. 
In 2014, as fashion became bolder, material mixing became popular, especially denim on denim. It was blue denim shirts worn with jeans, and denim jackets were matched with all sorts of denim accessories. This trend was one that all ages took part of.
In 2015, we had lace up fronts. There were lace up front shirts, pants, skirts and dresses. This was a very popular look for women, especially for teenagers and young adults. It gave an additional, more edgy look to a simple article of clothing. The lace up front was more eye catching than a zipper on a pair of pants or buttons on a shirt. 
In 2016, we had army and bomber jackets. These were typically olive green or black. The army jacket was made up of pockets and zippers, while the bomber was soft and puffy with a striped collar. Patches and pins would normally cover these tomboy-ish jackets. This trend was very popular among adolescents and young adults. 
In 2017, there was corduroy. This material is soft and ribbed and was especially popular in high-end fashion at this time. The neutral tone wide-wale fabric is just as comfortable as it is cute. Recently, the trend resurfaced and will likely not be leaving us for a while. 
Probably the most popular pants trend came to us in 2018 – mom jeans. This popular trend brought back the 1990s grunge scene. This is still an extremely popular trend, but 2018 was the year it both started and flourished. 
Finally, 2019: tiny sunglasses. Another 1990s inspired style trend, this accessory is one everyone has tried to get in their hands this year. Celebrities such as Kendall Jenner and Devon Carlson showed us these over the summer. This fun accessory is simple, practical and keeps up with the current '90s aesthetic. 
Fashion trends recycle all the time. It will be interesting to see how this decade's trends are reused in future. The next decade's fashion could be anything. I believe we'll still continue to pull ideas from the past and create unique, modern looks out of them. 
Follow Lilly (@Lilgormet ) and @CHSCampusNews on Twitter. 
About the Writer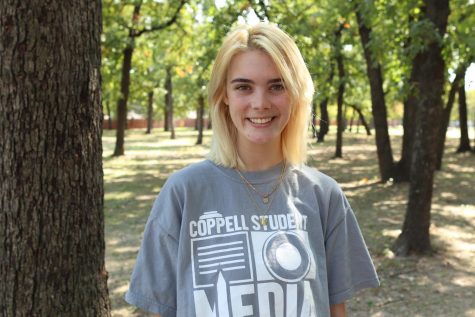 Lilly Gorman, Visual Media Editor
Lilly Gorman is a senior and visual media editor for The Sidekick. In her free time she enjoys shooting 35mm film. She has been playing bass guitar for...