Beyond the numbers
Seeing athletes of this decade as memories, not statistics
The year after I was born, former quarterback Tony Romo signed for the Dallas Cowboys, launching his 13-year career in the NFL. He retired two years ago, taking on a new role as a sportscaster with CBS. 
While his legacy is debated, some pointing to the numbers to show he was not a stellar quarterback and others using other statistics to show he was, my view of Romo is not based on data at all. 
Rather, I find the deciding factor for whether or not an athlete such as Romo was great is the memories I can pin to him. 
Beyond just the end result of their sports careers or even the careers with the team I am most familiar with, the determining factor of athletes' places in my heart is the memories I can associate with them. While looking at hard numbers are good for objective comparisons, the big names in sports of this decade (at least my personal list) were built more off personal connections.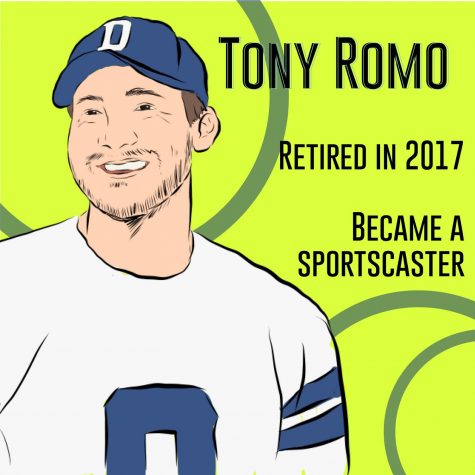 My dad, a huge sports enthusiast, when not watching the Cowboys play, would watch a variety of sports analysis shows, such as ESPN's "Around the Horn" and "Pardon the Interruption". Romo's name would be mentioned again and again, so many times that I literally knew no other football player's name.
Even though I do not believe I ever watched a full game he played and have very little knowledge of his success as a quarterback, he was a large figure in my childhood. The sports world has moved on, of course, and now Dak Prescott has overtaken the media, but whenever I hear Romo's voice in the background of a game, I cannot help but miss the time when he was being talked about, not the one talking.
Of course, the application of memories to determine the great from the forgotten goes beyond just the sports I knew little about. Baseball, one of my favorite sports to watch growing up, also has some iconic figures.
Former Texas Rangers pitcher Yu Darvish was traded in 2017, the same year Romo bid farewell to his role as a quarterback. Darvish, while not the only Rangers player I knew on the team, was, in my mind, a legend.  
Hailing from Japan and spending five years with the Rangers, Darvish was one of the coolest people I would watch on sports television. I remember watching him thinking, "I want to be like him."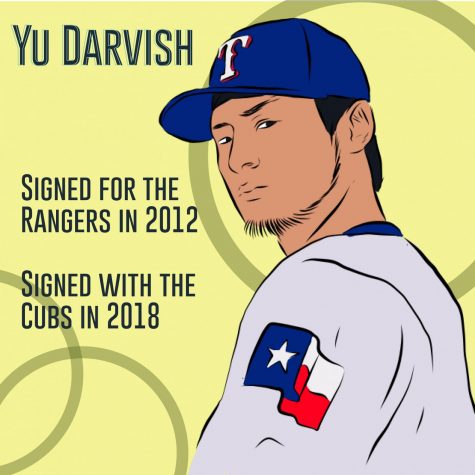 I even asked my dad to teach me to pitch like Darvish. I was ready to begin my baseball career because of this foreign man I would watch on TV. 
Of course, my pitching career ended before it began when I learned that girls played softball and not baseball, so I would have to pitch underhand. While my dad, who also played softball until just this year, was more than happy to teach me underhand pitching, I declined the offer because it just would not be the same if it was not how Darvish did it. 
When I learned Darvish was leaving the Rangers, it was the same set of emotions I would have felt if he were retiring. Memories of hearing the story of him adopting a pitbull on the car radio, seeing him play for the first time after he cut his feathery hair and watching him hit his first home run flooded my mind. Though no longer a Ranger, he holds a special place in my heart and in my collection of sports names of the decade – and not just for his pitching skills, but for the personal attachment I have with his persona. 
I will not deny the big names in sports are often accompanied by strong supporting statistics. However, numbers alone do not define the athlete's greatness or legendary status in my eyes. 
British swimmer Adam Peaty holds the world record for the 100-meter breaststroke with a time of 56.88 seconds, as recorded from the most recent World Aquatics Championships in South Korea. This is amazing, but I have no connection to this man. His victory is admirable and I celebrate the progression of fastest swim times, but Peaty just does not make my list. 
American swimmer and 28-time Olympic medalist Michael Phelps, on the other hand, does. 
I watched Phelps throughout the years as a swimmer, from his amazing runs in the 2008 and 2012 Olympics. I remember hearing of his retirement and the thrill I got when I heard he had unretired in 2014 and prepared for the 2016 Olympics. I cheered him on as he did that odd arm flap, feuded with South African swimmer Chad le Clos and even became a meme before actually retiring.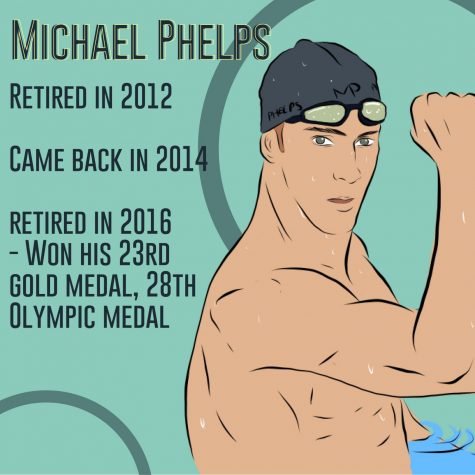 Beyond just his accomplishments in the pool, I grew even more attached to him as a human being. When Phelps opened up on his struggles with depression, he allowed the world to see athletes are vulnerable and facing the same problems as average people. It resonated with me even more than anything he could have done in the water. 
In the 2019 World Aquatics Championships, two of Phelps's records were broken, one of which by American teammate Caeleb Drussel. Phelps now only holds one individual event world record in the 400-meter individual medley.
While that record will eventually be broken one day or another as more names are rising in place of the ones retired, it is Phelps who has made the deepest personal connection and will remain as the single biggest name in swimming this decade. 
Another example would be the legendary former Dallas Maverick Dirk Nowitzki, who retired earlier this year. Having played for the Mavericks since before my parents were married, Nowitzki has captured the hearts of many people. 
My entire family was watching on the small TV we used to have in our living room when Dallas won the NBA Finals in 2011.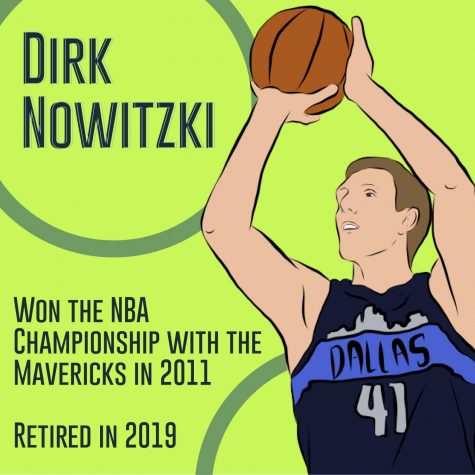 It was an incredible moment for our family, to the point where we purchased a magazine with the Mavericks as the cover story and that magazine remained in our china cabinet amongst the fanciest objects in our house until my mom removed it. I have no memories of the details of that game, but I do know that was when I realized that Nowitzki was an iconic figure. 
My less results-driven admiration for the man came after the finals. My dad thought it was the funniest thing in the world to listen to Nowitzki's rendition of Queen's "We Are the Champions" and another memorable video my younger sister and I rewatched nearly 50 times was of him killing a bug in the middle of a press conference. By the end of his NBA career, Nowitzki was yet another figure who earned his place among the greats of this decade. 
There will be moments in sports history that never go forgotten, such as the 2008 Beijing Olympic 4×100-meter freestyle relay where American anchor Jason Lezak ended in such a fashion that still gives me chills over a decade later. However, most of the big names in sports will simply rise and fall as humanity increasingly improves at each aspect of every sport. 
The actual accomplishments of athletes are only one angle to their greatness. What makes an athlete unforgettable is how an audience connects to them – far beyond just a list of statistics. 
Follow Sally (@sparampottil) and @SidekickSports on Twitter.