Cowgirls walk off the court with win against Mustangs, gear up for first district game
In its last game before the start of District 6-6A play, the Coppell girls basketball team faced Grapevine on its home court at the CHS Arena and walked away with a 61-42 victory.
The game had its unexpected moments, and though the Mustangs ultimately fell by 20 points, there were times when they nearly caught up. The game started off slow paced for both teams, with the score only standing at 10-2 with the Cowgirls in the lead at the end of the first quarter. 
However, the game picked up tempo, and the Cowgirls began to dominate the court, pushing the score to 31-13 at halftime. 
The momentum carried over to the third quarter boosted the lead to halfway through. However, as the game neared to an end, the Mustangs surprised the Cowgirls and nearly made a comeback to close the gap. With only three minutes left in play, the score was 51-40.
"We got sped up a little bit, we needed to calm down and get back to what was working for us." Coppell coach Ryan Murphy said. "And that was moving the ball, moving our bodies and not over penetrating on dribbles. We had to be more patient on offense and making sure we're getting the best shot for us and not the best shot for the individual. When we did settle back and do that, we started pushing the lead back up to 20 again."
All in all, the Cowgirls put on a display of what has the potential to be. The defense was well-coordinated and tight for the most part, allowing quick clearances to transition to offensive plays. One of the stand-out players was CHS senior point guard Kennedi Rogers. Rogers was placed to guard one of the Mustangs' best players — junior Kennadi Archibald.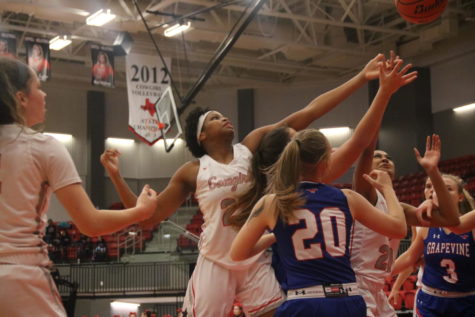 "As a point guard, you set the tone for what we're going to be defensively with your pressure on the ball," Murphy said. "[Rogers] did a great job with that and pitching the ball up ahead to get us into transition. And then and then when we got in the half-court, she kept putting pressure on the rim making the defense collapse… In the beginning, she came out, scored a few baskets so Grapevine got all eyes on her. Once they started adjusting, she just started finding whoever was open and she really picked Grapevine's defense apart."
Now, the Cowgirls face MacArthur, one of the top teams in the district, on Friday at MacArthur High School at 6:30 p.m. to open District 6-6A season.
"They are one of the top five teams in the state, have two Baylor commits and are preseason favorites to win the district," Murphy said. "They are one of the main teams contending for the state championship. So it'll be a good test for us to start off district and see how we compete against a really talented team."
Follow Akif (@AkifAbidi) and @SidekickSports on Twitter