European champ to Coppell coach
Mastebroek instructs with medley of swim experiences
A typical day for Coppell swim Coach Marieke Mastebroek starts early. At 6:45 a.m., she greets her varsity swimmers at the Coppell YMCA, pacing the pool as they practice sets. As Dutch record holder in the 50 freestyle and the 100 individual medley and a decorated former swimmer for Southern Methodist University, the roles of athlete and coach were reversed for Mastebroek for many years.
"From the beginning, I always felt like I could do really good in swimming if I just worked on it," Mastebroek said. "I just had a feeling – I loved it."
Mastebroek grew up in Veendam, Netherlands and started swimming at age 10. She began swimming recreationally once a week. At 15, Mastebroek competed at the national level, training for up to 12 hours each week. 
"I didn't really decide I would do it professionally, I just got progressively faster," Mastebroek said. "You start as the club champion, the regional champion in the area, the national champion and then you become the European champion. It's a progression, a step by step process. You only hope you'll get as far as possible, and I was lucky to be able to do that." 
After placing at the Dutch National Championships, Mastebroek joined the national team, travelling to events in more than 20 countries and interacting with swimmers internationally. In 1988, Mastebroek competed in the World Cup held in Berlin, Germany at a time when the Berlin Wall still divided the eastern and western parts of the city.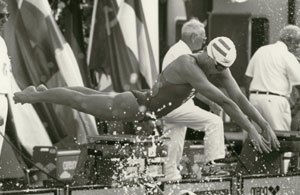 "We all knew these Eastern European swimmers from communist countries were taking steroids and doping," Mastebroek said. "They dominated swimming until the wall came down. I remember in the finals it was just me and one more girl from Western Europe. I looked to the right and I looked to the left and it was all East German swimmers with muscular, massive builds. Still, I won [Gold, 50 freestyle] that World Cup, and that's something I'll never forget."
Mastebroek arrived in Texas after earning a scholarship to swim at SMU in 1993. In the span of two years and nine months, she graduated magna cum laude with her undergraduate degree in International Business. Mastebroek swam in the NCAA Division I group and ended her athletic career with a fourth place team finish at the NCAA National Championships in 1996. 
"I prioritized swimming in my high school years," Mastebroek said. "Once I got to SMU, I made the radical shift to focusing on academics and taking advantage of my scholarship. I really started to make a transition from athlete to wanting to be a young professional coming out of college."  
When Mastebroek's eldest son, Jack, began swimming locally in 2010, she recognized a need for teaching stroke techniques to young swimmers and organized coaching camps. Mastebroek flew in her former coach from the Netherlands, Anton Koekkoek, and Olympic bronze medalist in the 200 breastroke and biomechanic Dr. Wieger Mensonidus to help her analyze strokes and develop the program. In the same year, Mastebroek founded Streamline Biomechanics, a company that would offer these camps and coaching more frequently. 
"During the summer of 2010, we only did two weeks of camp for higher level swimmers, and right after we were done, I got so many parents asking me to make this technique camp available to younger kids at lower levels too," Mastebroek said. "There was a need for technique they weren't getting. So I started to run all of these swim camps. I did a ton of them, and the kids loved it."
Mastebroek had the opportunity to apply her knowledge from stroke analysis and underwater video to her high school swimmers when she was hired to lead the Coppell swim department in 2016. 
"Her experience in swimming and running her business, Streamline, has made her one of the best technique coaches we have in the area," Coppell assistant coach David Conrad said. "[Mastebroek] has the ability to take an athlete with a swimming or stroke problem and identify the correction that needs to be made and find the right words to help the kid make the change."
During her three years in Coppell, Mastebroek built a booster club for the swim team that has allowed it to compete in and host more meets. Coppell swim team booster club President Renee McCoppin attributes the team's performance in meets to Mastebroek's coaching.  
"
[Mastebroek] has the ability to take an athlete with a swimming or stroke problem and identify the correction that needs to be made and find the right words to help the kid make the change.
— David Conrad, Coppell assistant swim coach
"We have a larger presence this year in expanding what we're doing and becoming more visible for the team and for the community," McCoppin said. "Recently, we had over 30 swimmers go to the Texas Interscholastic Swim Coaches Association (TISCA) meet, and almost all of the kids dropped time and had personal bests in their events. I would attribute that to her coaching and the time she spends with them."
Swimming has shaped Mastebroek's life and career in numerous ways, and brought her to Coppell, but most importantly, it has taught her life lessons. 
"Swimming has taught me that if you constantly push yourself to the limits physically, you can do way more than you think you can – it makes you tougher," Mastebroek said. "The beauty of high school coaching is that it's about progress. At any level, swimmers learn that through consistent effort, they can measure their progress."
Follow Shivi @_shivisharma_ and @SidekickSports on Twitter.