Alumna addresses college homelessness through foundation Trojan Shelter
Sleeping bags and blankets line the streets of Southern California as temperatures dip and winter approaches. Among the homeless are thousands of college students. 
Coppell High School 2017 alumna and current University Of Southern California student Esther Cha and her partner Abigail Leung are working to combat this issue at USC by establishing a homeless shelter, the Trojan Shelter. 
Open seven days a week from November to May, the Trojan Shelter provides shelter and food to six college students who are enrolled in two units for an entire school year. The goal of the shelter is to eventually find permanent housing for the students when their time at the shelter is up. 
Cha and Leung met during a public policy class where Louis Tse, the founder of Bruin Shelter at UCLA, the first student-run shelter for students experiencing homelessness, and their current sister organization, spoke. 
"We were both struck by the issue of college homelessness and wanted to do something about it," co-founder Leung said. "We asked the co-founder what we could do to help, and he said we should start our own shelter."
Roughly 10% of students at USC are homeless and 20% lack access to consistent sources of food according to California State University Chancellor Timothy White. That is roughly 2,000 USC students experiencing homelessness. These shocking statistics, first hand experience seeing students without a home and encouragement from Tse, compelled Cha to take action against the epidemic of college homelessness. 
"Trojan Shelter shows that the model established by Bruin Shelter can be replicated, and I believe should be replicated across the nation," Cha said. "No student should have to worry about where they are sleeping at night."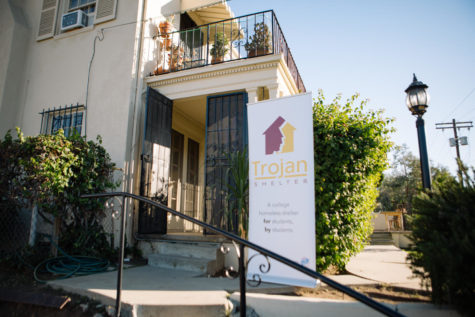 Cha's passion for finding a solution to homelessness started when she moved to Los Angeles. In Los Angeles, there are close to 60,000 homeless individuals and many of those affected are college students. 
"After moving to Los Angeles to attend college at USC, I was heartbroken and shocked by the high numbers of people experiencing homelessness," Cha said. "I was more shocked to learn that my fellow classmates were struggling with homelessness as well."
The Trojan Shelter provides volunteer opportunities for students studying at USC as it is fully staffed by USC students who prepare meals and work overnight shifts. 
"We provide free housing, public transportation metro cards, toiletries, and three meals a day; two student volunteers who do overnight shifts and serve as [residential assistants] to create a dorm like experience," Cha said. 
Cha works alongside a team of seven other USC students as well as many volunteers. Her personal dedication to addressing homelessness inspires her teammates and drives the desire to continually improve the shelter. 
"Esther is one of the most driven individuals I know," Trojan Shelter director of media Matthew Lee said. "She is extremely capable, organized, proactive and professional. On top of that, however, she is one of the most mission-driven people I have worked with. Her persistence to solve social issues from the roots up with holistic organizations and models truly make her and her work effective and impactful."
Planning for the shelter began in spring 2018. Despite permitting issues and necessary renovations to get the shelter ready for residents, the shelter opened Nov. 1. 
As the shelter moves forward in upcoming years, the focus will be on serving a greater number of students and raising awareness for college homelessness across the country. 
"I hope that by sharing our story more students experiencing homelessness will be supported and given the resources to succeed in college," Cha said. 
Follow Jillian (@jillianmoore_) and @CHSCampusNews on Twitter.