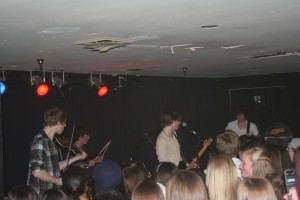 When you have a room full of people who love music, who know how to play music, and even make their own music, the outcome can only mean one thing. A band is formed. A band of young musicians that create their own songs that is their perception on life. The band's name is Seastroke, and they have just hit Coppell with a whirlwind of music.
Sophomore Stuart Leach founded the band with a couple friends; Jett Raines (drums) Matthew Lancaster (bass) and Jeff McQuitty (violin). Together they started writing, creating and even recording their music. All this happened over the course of a year.
Soon they had four songs prepared that gave a heavy indie-pop sound to the band. And this is wear Seastroke broke off from the path of normal bands. The band decided to hit the recording studio first instead of try the new songs out on family members and friends.
Recording at Swan Studio in Irving with producer Jeff Taylor of Air Review, the band completed their first EP.
"[Making music] was never a chore," said singer Stuart Leach. "It was something we did when we wanted to. It was something that we wanted to do."
The band lugs around all their own equipment, manages everything themselves, and even gets themselves gigs around town.
The band recorded and released their debut EP entitled "Outside into Eyes" which was released on March 9th 2010. The EP consists of four songs. The songs are (in order) "Sailing" which is a fast paced song that really kicks off the album. Following that is "April" which is the highlight of the entire album. "Cathedral" is the next track and consists of a variety of instruments that all flow together. The concluding song is "Between Glass" which is a "from the heart" kind of song.
"Different influences inspired each and every one of us said Cistercian sophomore Matthew Lancaster. "We all combined our favorite styles and walla!"
On Friday March 26th, "Seastroke" played at the Doors in Plano, being their first legitimate show. The band played their entire album and a few covers of other bands. The show was electrifying and exciting. The stage presence of the band was phenomenal and the crowd was definitely getting into the band.
"I felt like they really did well" said audience member Will Gibson. "They really put on a fabulous show. They connected with the audience real well."
The band credits a lot of their help to people that have gone in and out of the high school doors. "People like Blake Mankin and Jonothan McQuitty really helped us a lot," said Stuart Leach. "We wouldn't be here if it wasn't for their help."
The band has a big future ahead of them, but the band is going to take their time and slowly move forward.
"We don't want to rush into anything," said sophomore Jett Raines. Our ultimate goal is a full-length album within the next couple of years."
Leach said that the band in already in talks with some producers that wants to help the band, but nothing has been confirmed yet.
The band is already scheduled to play their second show at the Prophet Bar Big Room in Dallas. In a post on Seastroke.com, the band said, "we will be trying some more new songs out on you guys."
With the band slowly crawling their way up the music totem pole, we should be seeing a lot more of "Seastroke" in the music picture.