New cell phone policy silences classroom distractions
This year, Coppell High School students were hit with new policies governing the usage of cell phones during classes. Previously, no school wide regulations were in place regarding the use of personal devices; now, students are required to leave phones in a designated phone area or backpacks throughout the period.  
The introduction of this policy is intended to combat distractions and reduce cheating. 
"One reason [for enforcing this policy] is instruction, the second is the cheating we had going on," CHS Principal Laura Springer said. "We wanted to make sure we didn't have an opportunity for a kid to take a picture of a test or text somebody and tell them what's on a test. I don't want to make it easy to cheat." 
Currently, CHS is the only campus in the district strictly enforcing the policy school wide, according to Springer. The CHS9 campus is beginning to enforce the policy on a smaller scale within individual classes.  
According to AP World History teacher Connor Blake, student engagement and concentration has improved compared to the distraction from learning phones provided in previous years. During classes, students used to check messages and social media, which decreased class participation. 
"Last year, I took the stance that it's an AP class, college level, and students should be able to manage their phone independently," Blake said. "However, it became a huge distraction to students and [it created a big] classroom management problem." 
Teachers have seen improvements in student engagement and participation within classes after removing cell phones from the learning environment. 
"There is a lot more student attention [and] engagement in the classroom setting," Blake said. "I feel like engagement is up, and students who potentially could easily be distracted are not being distracted which is helping their grade and also their overall performance in the class."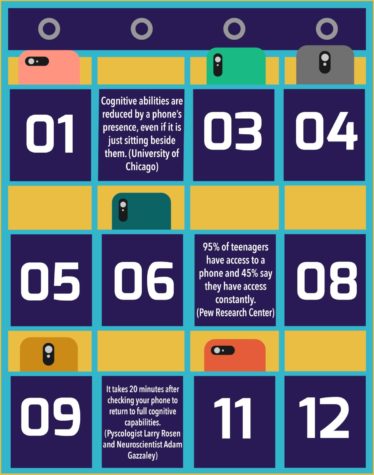 Students are also encouraged to engage with other students during class rather than bury themselves in their phones. Stepping back from the screen promotes a decrease in online bullying and harassment and forces students to deal with issues in person. 
"The whole cell phone thing has been an area where our kids want to attack other people and use it to belittle and to treat people rudely," Springer said. "[The policy] has given a break from that for a little while so you don't have to worry about what's happening on social media." 
While many students and teachers have seen improvements throughout the school, others are still skeptical of the effects of the phone policy. 
"It's been a little helpful, but not as much as the administration expected it to be," CHS junior Ananya Sampathkumar said. "To begin with, phones weren't too big of an issue and most of my classes had no problem with the existing phone policy. When [students] weren't supposed to be on our phones, we weren't."
CHS sophomore Hinkley Davis addresses being dissatisfied with confiscated phones being held by the office until parents pick them up. When student's phones are taken by the teacher during class, the phone is given to the office and a parent must pick it up. Repeated offenses are subject to a $15 fee to get the phone back.  
"One warning isn't enough because sometimes you have to text a family member and you can't [always] predict that," Davis said. "Taking [phones] to the principal's office and requiring parents to pick them up is unnecessary. It's our belongings, not the schools." 
Although Sampathkumar hasn't seen a personal benefit from the policy, she recognizes how the phone policy can be beneficial to others. 
"Phones were used a lot when they weren't supposed to be, and cheating did happen because of it," Sampathkumar said. "This year, I feel that students who are distracted more easily are better off with their phones away from them, so they feel less inclined to check it."
Going forward, Springer plans to continue enforcing the new cell phone policy.
"As far as I know, [the new policy] has allowed our teachers to teach more, and it has allowed our kids to learn in a classroom with fewer distractions," Springer said. "For me that is a win-win." 
Follow Jillian (@jillianmoore_) and @CHSCampusNews on Twitter.