Point leaves behind legacy of love, connection
Karen Lu, Daily News/Assignment Editor
October 3, 2019
After only three months of returning to Coppell High School, CHS Principal Laura Springer has already hugged, loved and developed a relationship with student Preston Point, who will always hold a special place in her arms. 
"The thing about [Point] is that when he loved you, he loved you with everything in him," Springer said. "He loved his friends; he loved them deeply. He loved his monkey deeply. We will miss his presence, just his beautiful presence, in our everyday life."
On Sept. 21, CHS student Preston Point died, saddening those in the CHS community and beyond. 
Point was attending CHS for his seventh year, allowing him to develop deep, lasting connections with the faculty.
"You can't be around Preston and not find joy in life," CHS special education teacher Melissa Murray said. "He made you laugh. He was quirky and funny. You could see how much he loved people. You could tell by the way he would love back. He had his own way of loving on people. There's just so much joy that he brought. He was like a little ray of sunshine."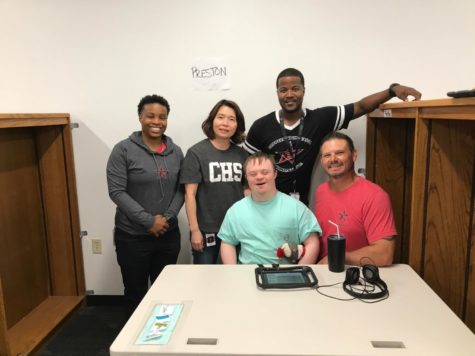 The love Point had for others was obvious to even those who had just met him.
"[Point] was a happy soul," Springer said. "Every day he approached as a glass half full kind of day. He loved deeply. He cared for his friends. He loved the teachers who worked with him. He would lay his head over on you if he loved you and just close his eyes. That's his way of saying 'I love you.' The love he showed through his body language was amazing. He walked down the hall with a pep in his step. He just enjoyed life every day, which was an amazing thing."
Point's love went further than just to those around him; wherever Point was, his beloved sock monkey named KeKe wasn't far behind. 
Parts of Point and KeKe can still be seen throughout the halls of CHS, as students from CHS Transitional Pathways teacher Rosie Speanburg's classroom painted numerous pictures of KeKe to hang on the walls. Murray designed a special card in remembrance of Point for A Note of Hope, with the words "You've been sent a 'KeKe' Hug! In Honor & Memory of Preston Point. A life full of Love!" and a picture of a cartoon sock monkey.
However, the impact Point had on others goes beyond a stuffed animal. Those who had the opportunity to meet and interact with him will remember him for years to come.
"He touched more people than I even had an idea of," CHS special education teacher Eddie Beal said. "I knew there was a large group of people who he talked to and worked with, but literally, he touched hundreds of people's lives. I didn't get to realize truly how many people he touched. He gave to us by far much more than we gave to him."
Follow Karen (@_karenlu_) and @CHSCampusNews on Twitter.