The Sound entertains individuals of all ages, interests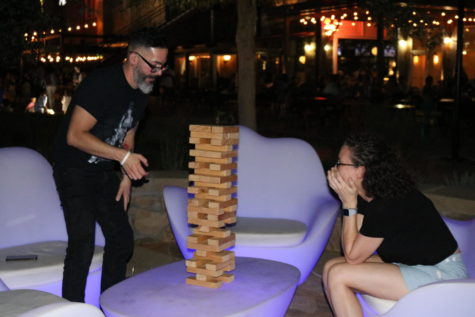 With many places around town offering entertainment, The Sound in the Cypress Waters neighborhood near Coppell stands out as a popular favorite with many Coppell High School students. 
Initially, The Sound appears bleak and crowded with many buildings, but as the sun sets the atmosphere completely transforms. Neon signs light up the exterior of all buildings and the lake is illuminated by an artistic water sculpture. This enclave of entertainment begins to feel like a secluded spot in the heart of the city. 
The Sound provides the perfect location for live music, movies and dining opportunities. Popular events include movie showings on Saturdays at 8 p.m. Movie and music showings include The Incredibles, The Karate Kid, Ferris Bueller's Day Off, and live music from Emerald City Band, Little Lies and Barefoot Nation. With multiple entertainment opportunities such as trivia on Tuesdays, Saturday movie showings, and live music throughout the week, there is always an event to attend at The Sound. 
Those who have attended events at The Sound credit the diversity in activities as the major attraction. 
"The Sound is a great place to hang out with friends because of the proximity to Coppell, its restaurants, and the family friendly atmosphere,"  CHS sophomore Maria Husain said. 
With a 27-foot screen and stage, The Sound is an ideal location for accommodating large crowds. Many come for a night out at the restaurants located around the stage while others come specifically for the music and movies. The Sound offers entertainment for people of all ages. Younger children play games while parents and teens get coffee and dinner at the six restaurants facing the stage: Ascension Coffee, Rodeo Goat, Eno's Pizza Tavern, Flying Fish, Flying Saucer, and Landon Winery. Offering styles of food such as pizza, burgers, coffee, and fish, as well as vegan, vegetarian and gluten free options, there is something for everyone.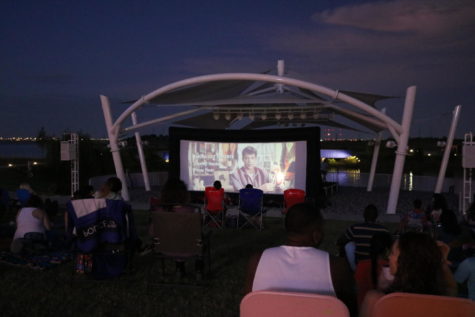 Many of Coppell's students have attended entertainment nights after seeing advertisements for it around the city. 
"While going to school everyday and shuttling to [CHS], the buses would drive past signs and advertisements outside Cypress Waters which always advertised for The Sound," CHS sophomore Mya Keys said. 
With lawn seating in front of the screen as well as chairs located along the restaurants, The Sound accommodates all individuals. While watching movies or live music, The Sound also has games such as Jenga, bean bag toss and ping pong. The multi-entertainment atmosphere ensures that something will appeal to everyone who attends.
The unique environment at The Sound makes it the perfect location for a night out with friends. Grab a blanket, some money and head to The Sound for modern dining opportunities, free movies and a variety of entertainment.
Follow Jillian on Twitter @jillixnxvery.