Adoption center volunteer program provides opportunity to aid shelter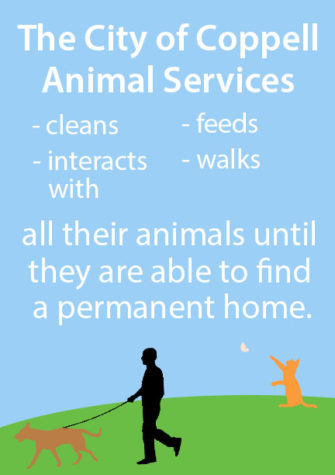 A place where animals are given a second chance and where people can come to make a difference: this is the City of Coppell Animal Services. 
Located at 821 S. Coppell Road and founded in 2000, the adoption center is a place for dogs and cats alike to have another chance at finding a forever home.
Unlike the Coppell Humane Society, which is a foster care system with limited availability, the City of Coppell Animal Services is a municipal facility that takes in all animals within the city.
"This means rather than having to pick and choose, any animal that's found in Coppell or any pet that is surrendered by an owner who lives in Coppell can be taken in," said adoption center employee Erika Laque, who has been working at the center for more than four years. "We don't turn people away unless they don't live in the city."
The adoption center staff does a wide range of tasks, such as socializing with the animals, keeping up to date with vaccines and matching potential owners with the ideal pet. Because of their hard work, the shelter boasts very low euthanasia rates, allowing them to help out shelters in other cities that may be full such as in Lewisville, Irving and Mesquite.
Volunteers at shelters such as this one usually play a large role in socializing and exercising the animals, allowing them to get comfortable with humans and preparing them for their future home. The volunteer program in Coppell, just having been launched in May of this year, is yet to gain the momentum it needs. 
"It hasn't really taken off yet, because it's 18 and up and a lot of younger kids want to come in but aren't able to for liability reasons," Laque said.
For more information, call 972-462-5313 or email [email protected].
Follow Joanne on Twitter @joannekkim.