Carnival reinforces Coppell family traditions, unites community
Another year goes by and the St. Ann Catholic Parish Carnival comes and goes, leaving just as quickly as it arrived and making way for the chilly fall air that follows. 
From the frantic screaming of visitors spinning wildly on the rides to the infectious laughter of groups of teenagers peppered throughout the grounds, the carnival has done much more in 27 years than one may think. It unites families and friends in a town where many say big events such as these do not occur.
For Coppell resident Sue Ronck, volunteering at the carnival is an important tradition for her and her family. She has been signing up to work for four consecutive years and was recently promoted to a spot on the carnival committee. She helps register a portion of the 1,900 volunteers signed up to work with her. Although other visitors may meander around the carnival grounds thinking it is nothing more than a chance to ride some fun rides, for Ronck, it is a chance to see her community come together.
"You watch people come from all walks of life," Ronck said. "Whether you go to St. Ann or not, you are welcome to enjoy us and enjoy yourself."
The smell of corn dogs and nachos floats through the air. Along the perimeter of the carnival, booths set up by local businesses invite you to experience their services. Music swells from the big tent in the heart of the carnival where visitors come to get some shade and boogie to some music. In the back, where everything is a little more peaceful, the Artisan Boutique shows off diligently made socks, candles and Christian merchandise.
For Nora Coradova, it is her second year at the carnival occupying her own little corner of the room with her handcrafted notebooks and modern-meets-vintage accessories. She sits with her friend Annabelle, greeting customers as they walk into the door with a warm smile. 
"We find that a lot of customers are very interested in what we have to sell," Coradova said. "Our church is like a family, and being here means we can support our family."
Last year, rain watered down the average attendance, which carnival chair Tim Barr says is anywhere from 20,000 – 25,000 people. Rain or shine, Barr intends to continue their annual carnival for several years due to the amazing response they have gotten over the years. 
"For us, we'll come whether it's rainy or not," Coppell resident Marie Arellano said. "It's a good chance for my kids to experience the fun things my town can offer."
Today, the carnival begins to pack up. Big slides and spinny rides fold away into boxes that rumble away in trucks. Coppell wishes farewell to their very own carnival, hoping for its happy return next September, its 28th year. 

Hang on for a minute...we're trying to find some more stories you might like.
About the Photographer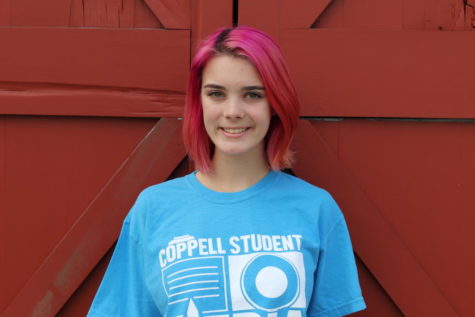 Lilly Gorman, Staff Photographer
Lilly Gorman is a junior and second year photographer on The Sidekick. In her free time she enjoys shooting 35mm film. She is a technician for Coppell...