How the beauty of my culture helped me embrace it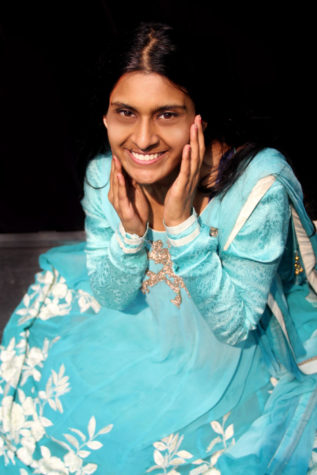 Nine years ago, my 7-year-old self excitedly climbed onto a school bus for the first time and sat next to a friendly-looking boy. While introducing ourselves to each other, he made a face and said, "your name is really weird"; being the dramatic child I was, I cried to my mother upon returning home that day.
I have been embarrassed about my name ever since – and about many of the other things that come with my Indian heritage as well, from my dark skin and coarse hair to our unique foods.
"It's easy to lose our culture, especially at this age, I feel like we feel sort of awkward about ourselves or self-conscious, so we try to fit in with the norms of American culture," Coppell High School sophomore Dhanu Navaneethan said. "It's because they think other people might find it weird. Or maybe when they were younger, little kids don't really know what they're saying, so they might've said something offensive about their culture, like 'oh, your culture is weird'."
Earlier this year, I created my first short film, titled Brown and Beautiful, which follows an Indian girl overcoming insecurities about her dark skin. Even while writing and planning it, I felt hypocritical, because I was still struggling with my own insecurity. But a few days after finishing it, I somehow felt different. Part of the film was recorded at the Shots by Bhavya 1st Annual Fashion Show, which featured many women of color; just like my main character, seeing others like me walk the runway proudly helped me realize my identity is not something to hide from.
Growing up, I was fully immersed in Indian culture. My family would only watch Bollywood movies in theaters, and my sister usually blasted Hindi or Telugu music in our study room, which led to my lack of extensive knowledge of American culture. I plan on catching up with Marvel and Star Wars this summer, but it frustrates me when people mock me for not watching them already – it's not like they've all seen my favorite Bollywood movies such as 3 Idiots, Fanaa and Taare Zameen Par.
While I do wish I was more exposed to American culture as well, I am honestly glad my heritage was such a huge part of my childhood, because as I grew up, I began becoming more and more distanced from it.
Especially regarding race, Coppell is a relatively diverse area compared to where I grew up – in the suburbs near Chicago – so moving here before my sophomore year of high school fueled my fondness of Indian heritage. Seeing more people like me at lunch made me far more willing to bring foods such as dosa and chutney.
Although America is a melting pot of diversity, the strength of American culture can cause some to hide the more unique parts of their ethnicity; but those parts should not be hidden, they should be embraced with open arms.
Follow Pramika on Twitter @pramika_kadari