15 years since "Friends"
Top 10 episodes to celebrate finale's anniversary
For her 16th birthday, Coppell High School sophomore Fiona Lopez's party was "Friends" themed – complete with a trivia game, pin the tail on the Smelly Cat and a cake with the iconic Central Perk couch.
May 6 was the 15th anniversary of the final episode of "Friends". Still, Monica, Rachel, Phoebe, Chandler, Joey and Ross remain present and influential in pop culture. From CHS students and teachers to people around the world, "Friends" is a timeless favorite of many.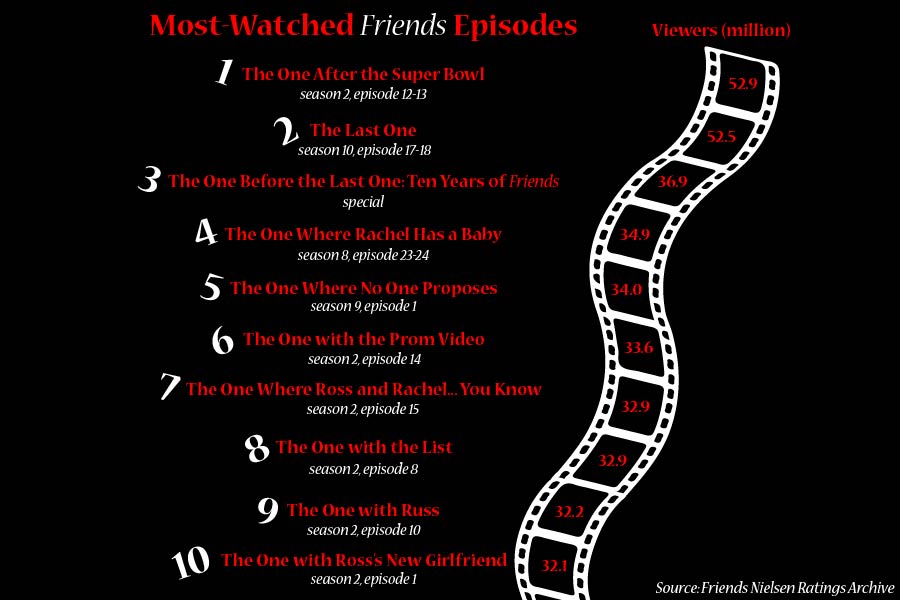 Here are my top 10 episodes of "Friends", including some of the show's funniest and most iconic moments:
10. "The One With the Morning After" (Season 3, Episode 16)
The infamous breakup between Ross and Rachel is a huge turning point in the show (this is the origin of "We were on a break!"). It's one of the most heart-wrenching, difficult episodes to watch. But Joey, Chandler, Monica and Phoebe being trapped in the next room and forced to eat wax provides just enough comedic value to balance it out.
9. "The One With the Cop" (Season 5, Episode 16)
One of the many reasons Season 5 is the best: Chandler, Rachel and Ross attempting to move a couch up stairs and Ross yelling at them to "PIVOT!" is priceless. Even that one scene would land "The One With the Cop" in the top 10, but the antics Phoebe gets into with her newfound police badge and Joey's attempt to hit on Rachel makes this episode an instant classic.
8. "The One With Phoebe's Wedding" (Season 10, Episode 12)
Season 10 contains so many monumental and heartwarming moments, combined with some of the series' best comedy – a return to form after the generally mediocre seasons 7-9. This episode is a great example: whether or not you wanted Phoebe to end up with Mike, it's hard not to feel truly happy for her, especially with such a beautiful wedding. Plus, there's a scene where Phoebe screams at Monica, and Phoebe screaming makes any episode better.
7. "The One With the Embryos" (Season 4, Episode 12)
In a battle to see who knows more about each other, Joey and Chandler battle Monica and Rachel in a high-stakes quiz game hosted by Ross. This episode is laugh-out-loud funny as obscure trivia about the friends is constantly revealed. Phoebe's surprisingly poignant storyline, in which she struggles with the pressure of becoming her half brother's surrogate mother, is the perfect complement.
"My favorite episode is 'The One With the Embryos'," CHS junior Smrithi Venkatraman said. "They have a lot of really witty and funny jokes. Chandler, my favorite character, says a lot of funny things."
6. "The Last One" (Season 10, Episode 17-18)
Few series finales can live up to the lofty expectations set on them by fans, but this is an exception. Ross and Phoebe's desperate attempts to get Rachel off the plane to Paris create moments both hilarious ("There's something wrong with the left phalange!") and suspenseful ("Did she get off the plane?"). Twins are born, Joey gets a new chick and duck, and Chandler and Monica move out of the apartment – it's a perfect, satisfying conclusion, and don't pretend the final scene doesn't make you cry.
5. "The One With All the Poker" (Season 1, Episode 18)
A great example of the cozy, comforting feel of Season 1, this episode is what cemented my love for "Friends". Watching the girls try to play poker with the guys creates some fun and humorous moments. With many subtle jokes throughout and a touching moment between Ross and Rachel that wraps the episode up nicely, it is one of the show's best.
4. "The One Where No One's Ready" (Season 3, Episode 2)
Taking place entirely in Monica's apartment, "Friends"' first "bottle episode" is a fan favorite, and rightfully so. As Ross tries to gather the friends together for an event at his museum, certain factors keep each one of them from being ready. Full of quotable one-liners ("Could I BE wearing any more clothes?"), this episode is hilarious and well-written, making it a must-watch.
3. "The One Where Ross Got High" (Season 6, Episode 9)
"Friends" is known for its Thanksgiving episodes, and this is the best one of all. Chandler tries to win over Ross and Monica's parents Jack and Judy, Ross and Joey try to get everyone to rush through dinner so they can leave early, Rachel messes up the dessert trifle and Phoebe harbors a sudden crush on Jack. The storylines intersect brilliantly in the episode's climax, which, as Judy notes, is "a lot of information to get in 30 seconds."
2. "The One With the Prom Video" (Season 2, Episode 14)
This episode is a game changer in Ross and Rachel's on-and-off relationship. The gang gathers around the TV to watch Ross and Monica's old prom videos. Seeing a high school-aged Ross, Monica and Rachel provides some hilarious and sentimental moments leading to an ending scene that makes the audience (and me) go wild. For people who believe Ross is Rachel's "lobster", "The One With the Prom Video" is essential.
"The One With the Prom Video is my favorite," Lopez said. "Seeing where Rachel finds out about the video and what Ross did, and how she's just shocked about it, that just really gets me every time."
1. "The One Where Everybody Finds Out" (Season 5, Episode 14)
Watching Chandler and Monica attempt to hide their relationship from the others through the first half of Season 5 is comedy gold, and this is where it all comes to a head. The results are as entertaining as one would expect, as Phoebe aggressively flirts with Chandler to pressure him to reveal the relationship. Aside from being a significant turning point in the show, the entire episode is hysterical. It is, as Chandler would say, "perfection".
Follow @anthonycesario_ on Twitter
About the Contributors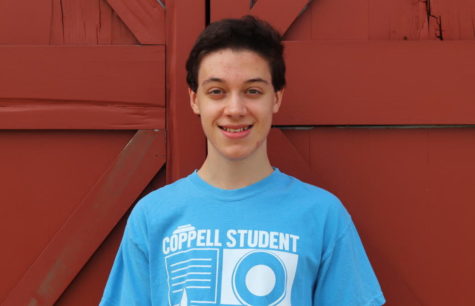 Anthony Cesario, Executive Editor-in-Chief
Anthony Cesario is a senior and the Editor-in-Chief of The Sidekick. When he isn't keeping up to date with all things music related, he enjoys exploring...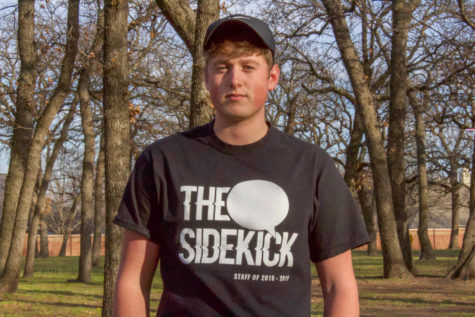 Jacob Nelson, Staff Designer
Jacob is a senior and a first year graphic designer for The Sidekick. He has been into graphic design for all of his high school years and plans on becoming...