Enhancing self-confidence in 'one go'
Verma, Klem create Encore Talent Group for performing opportunities
Standing in front of an audience of senior citizens with a microphone in hand, Coppell High School junior Shreyas Rajagopal sings "Hallelujah" by Jeff Buckley, letting the music consume him.
Rajagopal is a member of Encore Talent Group.
CHS juniors Rohil Verma and Alec Klem started Encore Talent Group this last November. The group goes to senior homes to sing to the elderly and gives aspiring performers an opportunity to put themselves out there. Members are able to join the group at any given time.
Verma and Klem created the group with the hopes of reaching out to students in high school who are interested in performing and offer an environment to express their talents such as singing, dancing and playing instruments as well as doing something nice for the elderly.
"One of [the seniors] in the back [of the room] was smiling," Rajagopal said. "I was like, 'I got you, I'll sing for you.' It makes us feel good. We're helping out the community, stopping by [senior centers]. This is not something you experience every day, which is also how we're helping them. They get to experience a mix of new music and old music that might've brought back nostalgic memories, might've created new memories."
Verma, who started playing the piano and guitar 11 years ago, discovered senior homes and hospitals are the perfect places to perform because they allow a minor to perform while other locations are exclusive to older performers.
"It started out with just calling a couple of friends to come perform with me," Verma said. "And then I asked my friend Alec Klem to help me put together a website, and then we pushed out flyers."
As Verma began to perform more, he realized this was something he could share with others who are afraid to perform in public.
"Public speaking is the number one fear," Verma said. "If you do perform in front of seniors who don't really care how talented you are or if you mess up, it's an easier environment and it's easier for the performers."
Members have performed at various locations nearby including Sandy Lake Rehab, Elmcroft Senior Home and St. Joseph's Senior Home in Coppell as well as Baylor School and White Hospital in Irving.
At St. Joseph's Senior Home on April 7, in addition to Rajagopal, CHS junior Eva Theel and sophomores Sakshi Sharma and Kirti Chamkura also performed. Rajagopal and Theel sang three songs each as well as a duet such as "Can't Help Falling In Love" by Elvis Presley. Chamkura also sang three songs such as "Man! I Feel Like A Woman" by Shania Twain. Sharma, on the other hand, danced to a Bollywood and Shawn Mendes remix.
It serves as a raw experience for the performers, as they have can see real world obstacles and situations performers face every day – such as forgetting lyrics or having technical malfunctions.
Furthermore, the student performers can test voices and skills in front of an audience that does not judge, allowing them to work out the kinks. They learn by adjusting their voice when singing high or low notes and how to recover from a misstep or voice crack.
Taking these curveballs in stride, they struggle through the reality of performing and learn to better themselves the next time they perform.  
"[Struggling] helps build confidence for performing," Theel said. "I can do 15 takes [when recording] but with this, it's just one go."
Moving forward, Verma and Klem plan to expand their club by further developing their website and creating a network of venues, such as coffee shops, as well as a network of students eager to perform in public.
Follow Anika @AnikaArutla
About the Contributor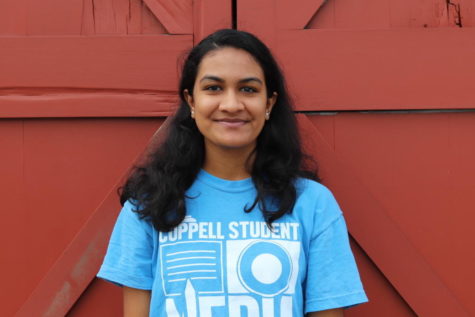 Anika Arutla, Social Media Manager
Anika is a senior at Coppell High School and it is her third year on the Sidekick staff. When she isn't writing, you can find her reading, watching movies,...