End of the line: Playoff run comes to an end against Grand Prairie
GRAPEVINE- As the sound of the final whistle traveled through the Mustang-Panther Stadium, the Grand Prairie boys soccer team went wild with joy, knowing it is still in the race for the state championship, while Coppell remained silent with its heads down.
In a 3-1 defeat to the Gophers, the Cowboys were eliminated in the Class 6A Region I area playoffs, concluding their season and leaving the team's dream of winning the state championship dashed.
Like his other 13 senior teammates, CHS senior forward Joe Ruedi walked off the field wearing the Cowboys red and white jersey for the very last time last night.
"There's something [special] about being a Coppell Cowboys, whether it's just practice, team dinners or any bonding moment is always amazing, it's more than just soccer," Ruedi said. "You get to be with your brothers, people who you've spent four years with, and these are relationships you carry for life. I look past soccer in that situation, it's a blast just to be with your friends and coaches."
Grand Prairie proved to be a tough opponent with quick attacking attacks, while
Coppell made several mistakes in the defense. Grand Prairie took advantage of the Cowboys' mistakes and scored the opening goal in the fifth minute thanks to a great scissor kick by Grand Prairie junior striker Baltazar Jimenez.
Down 1-0, the Cowboys began to grow more confident in their plays and managed to get several close attacking plays, but nervous mistakes remained a problem.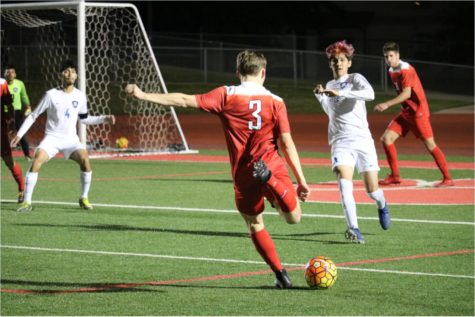 However, just as things were looking up for the Cowboys, the Gophers scored their second goal in the 46th minute thanks to a point-blank header by Grand Prairie senior forward Jose Carranza. Grand Prairie further lengthened its lead just moments later in the 49th minute as it scored another point blank shot
"If you lose focus a couple of times and don't defend like you need to, good teams will always capitalize on that," Coppell coach James Balcom said. "Grand Prairie is a good team, they capitalized when we weren't paying attention and we were left chasing the whole game."
A glimmer of hope emerged in the 61st minute when CHS junior forward Tom Vazhekatt scored the Cowboys' first goal with a well-placed shot off a great cross by CHS senior forward Jeremy Basso. With the score standing 3-1, with only 20 minutes left, the stakes were high.
Nine minutes, later Vazhekatt once more, but the assistant referee ruled the goal offside to the protests of the Cowboys.
The Cowboys continued to make great buildup plays till the ball reached the last quarter of the field, where Grand Prairie's defense held strong. No more goals came in the dying minutes, leaving the final score 3-1.
"[I told] the underclassmen to keep their senior teammates' spirits up, they've still got another run or two, but for the seniors, this was their last run at it [state championship]," Balcom said. "We wanted to make sure the seniors knew how much they meant to us and what they've done here so far this season shouldn't be defined by just a loss. We wish we could've done a little bit better in the playoffs but looking back, there was a lot of good that came from this season."
Follow Akif on Twitter @@akifabidi