Cowboys secure 2nd place with Senior Night victory over Nimitz
Previously placed third behind Marcus, Coppell celebrated Senior Night with a 4-1 victory over Irving Nimitz to finish runner-up to District 6-6A champions Flower Mound due to Marcus' loss to Lewisville on Friday.
Coppell opens the Class 6A Region I bi-district playoffs next week against Denton Guyer. Date and location are to be determined.
After spending four years of playing, training and creating unforgettable memories at Buddy Echols Field, the seniors of the Coppell boys soccer team played their very last home match.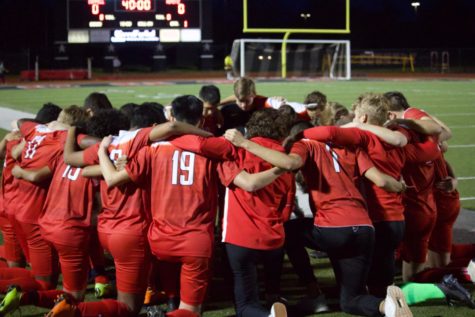 "I brought the seniors in and told them that before you rush out of there tonight, look around and take it all in. You've been here for four years and time probably flew quicker than you'd imagine," Coppell coach James Balcom said. " It's a great group.. this year they had a lot to prove. As juniors, they did not get a lot of playing time because they had a big senior class ahead of them so this year they had a lot to prove. The seniors came in with the right attitude knowing it's their time now. We had some slow starts [this district season], but after that, they lead well and pointed the team in the right direction."
With the win, Coppell finished district play 9-4-1 and passes Marcus (8-4-2), which lost 2-1 to Lewisville, for second place behind Flower Mound.
The opening goal came in the 27th minute as CHS senior midfielder Johnny Koponen scored a well-aimed shot. However, Nimitz was awarded a penalty minutes later as CHS senior goalkeeper Austin Simigan fouled Nimitz senior striker Martin Reyes. With a shot into the bottom corner, Reyes converted the penalty into a goal, making the score 1-1.
As the second half began, Coppell took up a more offensive formation and began attacking more frequently. Their efforts finally resulted in a goal in the 47th minute, as CHS junior forward Tom Vazhekatt scored with a splendid chip shot over the Nimitz keeper, giving Coppell a 2-1 lead.
Coppell continued with its attacking mindset, scoring two back to back goals in the 61st and 62nd minute – a great dribble past the defense and shot by CHS senior forward Joe Ruedi followed by a lofted shot by Kopenen, giving him his second goal. The goals ultimately left the final score 4-1.
"It's bittersweet. I am excited about my future and what it holds, but I made a lot of good memories on this field in the past four years," Coppell senior captain/forward Adam Marez said. "[I would tell a future Cowboy player] to just take it in, don't take any moment for granted… If you don't work your hardest and give it your all on the field, you're going to regret it someday. "
Follow @akifabidi on Twitter