Comeback story: Coppell takes over as district leaders
The Coppell boys soccer team played Irving on a chilly Tuesday night at Buddy Echols Field and walked off the field with a 4-0 win.
The two teams had last met on the field on Feb. 5, and resulted in a 2-0 victory for Irving while giving Coppell's third loss in its last four matches. As the Cowboys gloomily gathered in the locker room after the match, the team made themselves a promise. They swore that they would not take any more losses the remaining district season.
"Irving was our last loss this season, after that match, we knew we had to change. We changed our mentality and our approach to every game," CHS junior left winger Tom Vazhekatt said. "We have gained that confidence after each game since Irving. Now we have two games left and since we have already clinched playoffs, we know that we have nothing to lose."
As the season progressed, the Coppell reinvented itself into a more threatening team and was soon standing at second place in district, boasting a six-match lossless streak, of which five matches were wins.
With Flower Mound's 2-1 victory last night against Marcus, the Cowboys now sit atop the standings with the Jaguars moving into second place. Marcus has dropped to third place with two district matches to play after spending much of the season in first place.
"[The season has had] a lot of ups and downs, we were feeling a lot of pressure coming out of our last loss against Irving." Coppell coach James Balcom said. "We talked to the boys and told them that we just have to play, quit being afraid of going after teams and worrying about standings. Since then, we've rattled off a bunch of wins and a tie. Going from a spot where we were outside looking in on playoffs to now being nearly being on the top of table is great."
In the 4-0 win, Coppell took control of the match early thanks to a great dribble and shot from the left field by Vazhekatt, making the score 1-0 just four minutes into the match.
Vazhekatt scored once more with just five minutes left in the first half. CHS junior striker Sebastian Blaas took a low shot from out long, but the shot landed into the feet of Vazhekatt who scored with a quick point-blank shot.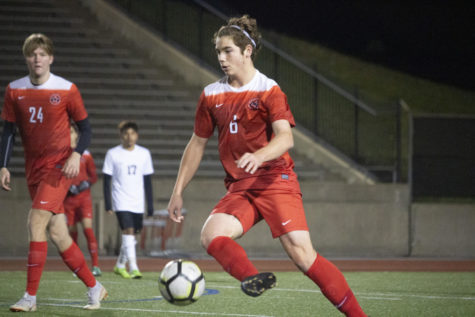 The scored changed to 3-0 in the 46th minute when CHS junior center forward Joe Ruedi scored a close goal. Later in the 62nd minute, Coppell further lengthed its lead as CHS senior right back Jacob Vasquez scored a curved long shot from the 20 yard line, and leaving the final score 4-0.
Coming back from spring break, the Cowboys will be playing Flower Mound in one of the most important matches of this season.
"That game could very well decide who's going to win district, I know that our boys know that and will play to win." Balcom said.
Coppell plays at Flower Mound on March 19 at 7:30 p.m.