Cowboys open district games with a 5-1 win over Cardinals
Dealing with strong wind and cold temperatures, the Coppell boys soccer team opened District 6-6A play with a 5-1 victory over Irving MacArthur on Tuesday at Buddy Echols Field.
Four minutes into the game, the Cardinals took an early lead. This has been an ongoing trend for the Cowboys throughout the preseason.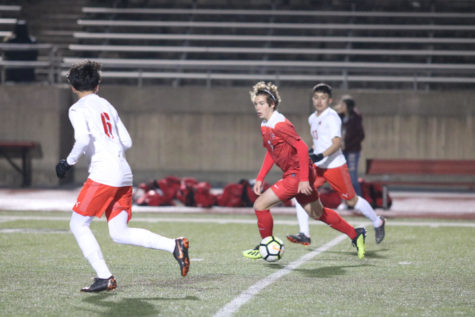 "When they scored and went up by one I was pretty nervous," Coppell senior goalkeeper Austin Simigian said. "In the beginning we struggled and started out really slow."
Despite being down a goal very early into the game, the Cowboys came back and retaliated with precise passes and working the ball up into the Cardinals' half of the field. While there were a lack of shots on goal from the Cowboys the few they had in the first half were successful.
The first goal scored was from junior midfielder Caleb Razo off of a through ball, which slipped past the Cardinals defense. To close out the first half, two goals were scored by junior attacking center midfielder Sebastian Blaas, which would make it a 3-1 game to the Cowboys at half.
"After I scored my goal I felt really amazing," Razo said. "I knew it was good to have scored a goal that early into the game."
In the second half, with wind gusts of up to 35 miles per hour, the Cowboys had the wind against them. This proved lethal for the Cardinals in moving the ball up the field during the first half, many punts were sent back by the wind, which created opportunities for the Cowboys.
The players were determined to come out of halftime with a new energy.
"When we went into the locker room for halftime, we really talked about standing people up and not diving in too soon, which is what they got most of their chances off of," senior outside back Johnny Koponen said.
The beginning of the second half had many back and forth challenges between the two teams. With 17 minutes remaining in the game, senior midfielder Joe Rudi played a ball in off of a corner kick which was headed in by Koponen.
"The chemistry of this team is great, these guys look like they are having fun together and they are playing for each other," Coppell coach James Balcom said. "It's tough having 17 new players to varsity, there's been growing pains, but with every game the chemistry has gotten better and better."
With the game coming to an end, the Cardinals gave up a second penalty, which Blaas was set up to take. Even with the intense wind, Blaas was able to whisk it into the bottom left corner, earn himself a hat trick and to score the last goal to secure the Cowboys win in their first district game.
"This being our first district game, it definitely went how we wanted it to," Koponen said. "There is for sure some stuff we can work on but it was a good game."
Follow Sydney on Twitter @syd218