Stroh enters role of principal's secretary, powered by experience of previous positions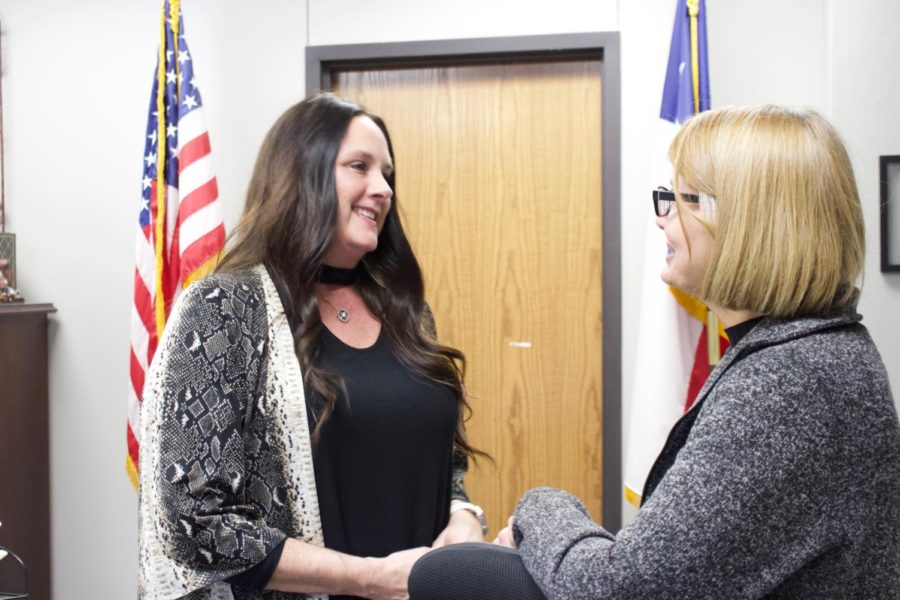 After a series of prior positions at Coppell High School, Amy Stroh has found a new role as administrative assistant to the principal. This promotion came after the former principal's secretary, Terry Phillips, retired in December.
Despite having big shoes to fill, Stroh thinks the support of the rest of the staff will help her until she gets accustomed to the job.  
"Everyone takes care of each other here," Stroh said. "Not one job is just that job. Everybody helps, is always there, doing whatever they can do. Coppell really truly is a family. They stand behind you and I love that."
Stroh began working for Coppell ISD in 2014, where she started as an administrative assistant to the assistant principals. Before joining the administration, she worked as a flight attendant for Southwest Airlines and as a medical assistant to a dermatologist. After a decade there, she joined the CHS staff.
Stroh spent four years as an assistant principal's secretary, before taking on the job of administrative assistant to the associate principals at the beginning of this year's first semester.
"She is amazing," CHS associate principal Melissa Arnold said. "She anticipates what you need prior to you needing it, she keeps you organized, and she's very personable – someone who will go the extra mile to ensure that the job is done and done well."
With the news of Phillips retiring, Stroh interviewed for the position.
"I applied for [the job] and immediately left for Maui, Hawaii for six days," Stroh said. "The entire time I was wondering [about the job]. When I got back that Wednesday, I walked in and they asked if they could talk to me. Then [Principal Dr. Nicole Jund] said, 'would you like to be my secretary?', and I was just so excited."
Stroh learned of her position in December but did not start until after Phillips retired. She began on Jan. 7, the first day of the second semester.
"Everyone has been so nice," Stroh said. "They'll stop by and say 'hi' and 'congratulations'. I've been learning a lot, I've been training, and so I feel very comfortable. I love it."
Working in administration requires many skills which, according to her peers, Stroh has demonstrated during her time at CHS.
"The biggest thing you need to be an administration worker is you have to be kind," Arnold said. "Every single person who walks through those doors into your office needs something and usually, half the time, they're in there because of a crisis of some sort. They're being disciplined or missing something or needing a meeting, and you need to be able to calm people and make them understand that we are there to help and support. [Stroh] puts kids first and always makes sure that we do the same."
Fellow administrative assistant Anne Ruedi thinks there are even more traits Stroh will carry on to her new position.
"A good administration worker is someone who is proficient in her work and a good listener," Ruedi said. "It's someone who organizes and sees all the things that need to fit together in a school this size, a person who is self motivated and has great integrity. Without any doubt. I believe Ms. Stroh will carry over all the things that she already is. She subtly will just be a good leader for us and guiding us in how all the processes work."
Working so close with the principal has its own set of challenges, including managing all of her many appointments. While Stroh has experience with managing, as she performed similar duties with the assistant and associate principals in her previous years, the new challenge can be a bit daunting.
"[Dr. Jund] has so many things going on, so many meetings and appointments," Stroh said. "There are things that are needing to happen, and we as an office need to keep her moving."
Though the job includes new responsibilities and tasks, Stroh has demonstrated a understanding of the system through her five years of prior service. After rising through the ranks and gaining experience, she has a strong foundation to continue her work in the administration office.
"I'm still learning," Stroh said. "I will have to continue to teach myself when new stuff comes up and new stuff comes up every single day. I'm excited for the next several years I'll be here, and I just appreciate everyone's support and their friendly faces."
Follow @sparampottil on Twitter.
About the Contributors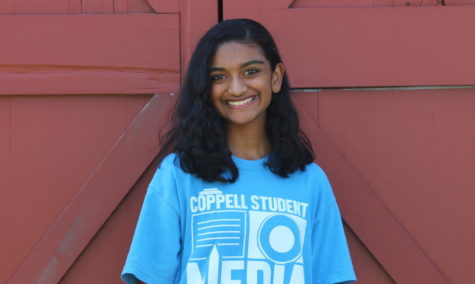 Sally Parampottil, Executive Sports Editor
Sally is a junior and the Executive Sports Editor on The Sidekick. When not working on homework or other school-related activities, she can be found rewatching...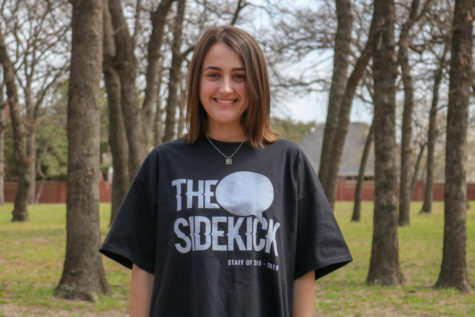 Bren Flechtner, Photography Editor
Bren Flechtner is a senior and third year staffer on The Sidekick. In her free time, she enjoys sewing, taking photos and spending time with friends...