Finding your place through spontaneous decisions
Newly sworn-in police chief takes a different approach
At 22 years old, Danny Barton, a biochemistry major from the University of North Texas, did not think he would end up being the Police Chief of the Coppell Police Department. In fact, he did not think he would join the police force at all.
"I got into it by accident but I fell in love with it immediately," Barton said.
During a three day weekend trip to his cousin's home in Bryan, Texas, Barton spontaneously applied for a job in the police force which had 300 applicants and two openings – and got the job.
Throughout his time on the force, Barton has taken up a variety of occupations. He started off as a line officer and later became a patroller, investigator, school resource officer and  detective – a line of work Barton became very attached to.
Barton took a different route than others to reach his position. Starting his law enforcement career in 1991, Barton was promoted for the first time to a sergeant. Six years later, he made CPD deputy chief.
"I have personally seen his leadership when we worked together in Bryan," wife Jennifer Barton said. "He was well respected by the department, as well as the citizens, and I don't know how he does it, but he can get people to open up to him with their deepest secrets."
Two days after being sworn in as deputy chief, former Police Chief Mac Tristan announced his retirement. Being new to the area of expertise, Barton did not think he would get the job but decided to apply anyway.
On Dec. 3, Barton was officially sworn into office with support.
"[Barton is] a very sociable guy," CPD deputy chief Jim Cook said. "[He's] very easy to get along with and you don't have trouble communicating with him, he's very affable."
Going forward, Barton has many plans for the Coppell Police Department, including dealing with the reputation of the police. Instead of dealing with problems using force and resistance, he plans on using compassion and embracing the problem.
"In today's world, a lot of police chiefs think that [social media] is the enemy. [It is] the thing that [is] making us look bad," Barton said. "I disagree, I believe we are making ourselves look bad. Creating and developing emotionally-mature, highly professional police officers is what our nation's asking for."
Follow Anika @AnikaArutla
About the Writer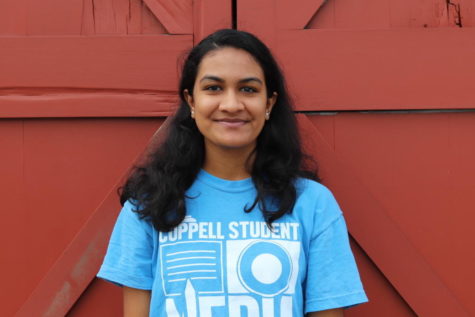 Anika Arutla, Social Media Manager
Anika is a senior at Coppell High School and it is her third year on the Sidekick staff. When she isn't writing, you can find her reading, watching movies,...