Book of the Week: "Girl in the Blue Coat" by Monica Hesse
As a lover of both history and reading, I have always loved historical fiction. From Prisoner B-3087 to The Hiding Place I have read at least a dozen Holocaust books. For Christmas this year, my mom bought me three books, all about the Holocaust. I started and finished Girl in the Blue Coat by Monica Hesse in a matter of days.
What I loved about this book is it takes a spin on World War II I had never read before. The book follows 18-year-old Hanneke Bakker, a black market trader who loses her boyfriend, Bas, when the Germans invaded the Netherlands. Bakker is asked by one of her customers in the black market to find a girl who had mysteriously disappeared from her hiding place in her house.
Bakker, who since Bas died keeps to herself and focuses solely on surviving the war, leaving all caution behind her and sets out to find the mysteriously disappeared girl, Mirjam Roodveldt, the girl in the blue coat.
On her journey to finding Mirjam, Bakker joins the resistance and sees Jewish friends forced to go into hiding, treated like animals and killed. However, Bakker also sees people fighting back and saving lives. Her experience allows her to move on with her life after the passing of Bas and stop blaming herself for his death.
Girl in the Blue Coat is filled with twists and characters as complex as real people. It is a well written book with an interesting plot that keeps the pages turning. My only critique is that after getting close to dragging out most of the story, the end is wrapped up rather hastily.
In the "Note on Historical Accuracy" at the end of the book, Hesse writes she "wanted to tell a story of small betrayals in the middle of a big war". In this novel, she beautifully achieves that goal.
Rating: ⅘ stars
About the Contributor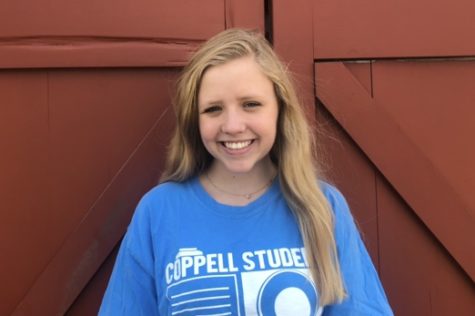 Charlotte Vanyo, Visual Media Editor
Charlotte is a senior and the Visual Media Editor for The Sidekick. You may have seen her dancing and singing around a stage in a local musical or volunteering...