Theatre Coppell caroling through Christmas
After debuting his acting career in "The Best Christmas Pageant Ever" at Theatre Coppell last year, Coppell Middle School North seventh grader Owen Kennedy returned to the theater this year for "Inspecting Carol", which had its last performance on Sunday afternoon.
The show, directed by Kit Hussey and produced by Wheelice Wilson, comically narrates the story of a theater running into numerous obstacles in its pursuit of preparing for its show, "A Christmas Carol".
"I would definitely want to do theater in high school," Kennedy said. "I get to be someone else, it's fun to try different roles."
Kennedy heard about auditions through his mother, Amanda Kennedy, who received a flyer in the mail.
"I enjoyed seeing a new side of [Owen] that I hadn't seen before," Mrs, Kennedy said. "Seeing him learn, seeing him work, seeing him stick with it. This wasn't all fun for him, it was a lot of hard work."
Set design was minimalistic; a few wooden chairs and tables, water bottles, desk supplies and candy were the only props used.
The cast practiced four days a week for five weeks, with most rehearsals being about three hours. Actress Molly Bower spent an additional hour reviewing lines each day during the earlier weeks. Bower, who has been acting most of her life, had taken a break from theater for a while before returning to the craft with "Inspecting Carol".
"I wanted to do something fun this time of year," Bower said. "I knew this show was funny, and wanted something lighthearted for the holidays. One of my favorite things [about theater] is the people. Meeting new people, making new friends. The interactions on stage that are magical. Make the audience laugh, or make them cry, those are my favorite things."
Although theater is many of the actors' passion, the art comes with challenges as well.
"My character is a little bit different than everyone else in the show," Bower said. "Her anger can sometimes make her too serious, so it was challenging to find the right contrast there, to not drag things down."
Follow Pramika on Twitter @pramika_kadari

Hang on for a minute...we're trying to find some more stories you might like.
About the Writer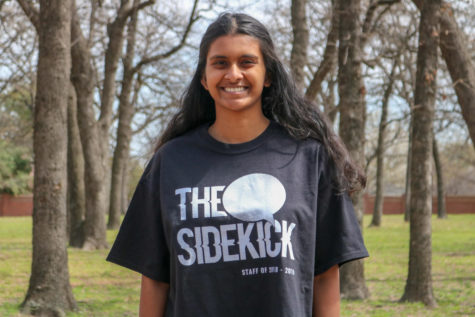 Pramika Kadari, Copy Editor
Pramika Kadari is a junior and the Copy Editor on The Sidekick. In her free time, she enjoys reading, writing, watching movies and spending time with friends....