Best SpongeBob moments
Hillenburg captures loyal following through unique characters
On Nov. 26, Stephen Hillenburg, a former marine biologist and the creator of the beloved cartoon series "SpongeBob Squarepants", died after losing the battle to ALS, diagnosed in March 2017.
In honor of his memory, some of the most memorable SpongeBob moments that fans of the yellow sea sponge remember to this day have been listed.
Notes: a and b represents the first and second halves of an episode respectively, and the list is in no particular order. If there is no a or b listed for an episode, then it is a special double-length episode.
Band Geeks (Season 2, Episode 15b): When Squidward tries to form his own marching band, he quits after they perform poorly during rehearsal. So SpongeBob gathers the band together himself and performs one of the most popular songs from the series to date–which is also being currently petitioned to be played in the upcoming NFL Super Bowl's halftime show. This episode also debuted the infamous quote, "Is mayonnaise an instrument?"
"Gary Come Home": Considered by fans as one of the saddest songs in the cartoon series, in the episode "Have You Seen This Snail?" (Season 4, Episode 3), Gary runs away after feeling neglected by an angry SpongeBob and is adopted by a new owner. SpongeBob soons realizes the errors in his ways and post flyers of his beloved pet with his friend Patrick whilst this gloomy song plays in the background.
The Magic Conch: In the episode "Club SpongeBob" (Season 3, Episode 2a), Squidward overhears SpongeBob and Patrick whispering and giggling profusely, and asks what they are doing, but cannot tell him as he is not a member of their treehouse club, and say that he could not get in even if he tried, so Squidward forcefully enters into the treehouse, but learns Spongebob and Patrick literally meant he could not "fit in", and are later flung into a kelp forest by the tree when Squidward attempts to crawl out. When SpongeBob and Patrick pull out a "magic conch shell" (a speaking wind-up toy) and decide to rely on it for their survival, Squidward initially rebuffs them but learns they actually acquire food to survive, prompting him to ask the conch if he could have something to eat as well. The conch rejects his offer, causing him to become enraged.
"The F.U.N. Song": In the episode "F.U.N." (Season 1, Episode 10b), SpongeBob tries to befriend Plankton, the recurring antagonist of the series and explains the meaning of fun through a song (although Plankton briefly sings an evil but equally amusing version of it).
"Pizza Delivery" (Season 1, Episode 5a): When SpongeBob and Squidward are tasked with delivering a pizza for the Krusty Krab, they take a long, arduous journey to deliver it while encountering numerous predicaments.
"No, this is Patrick!": From the episode "Big Pink Loser" (Season 2, Episode 3a), this infamous moment became popularized when Patrick is given a job at the Krusty Krab. One of his tasks is to answer calls from customers, and he becomes offended after thinking they are calling him a literal 'crusty crab'.
"The Campfire Song Song": In "The Camping Episode" (Season 3, Episode 17b), SpongeBob and Patrick (and later, a reluctant Squidward) make a camp outside Spongebob's front lawn and sing this brief but iconic song, much to Squidward's chagrin.
"Christmas Who?" (Season 2, Episode 8): In this double-length Christmas special, SpongeBob learns of the winter holiday and convinces the residents Santa Claus would be coming to town. But when Santa does not show up, the residents' faith is shattered, and they begin to reject SpongeBob, while Squidward feels bad for him. Squidward later masquerades as Santa Claus, only to end up giving up all of his personal items to the people. Eventually, he receives a note from the real Santa Claus thanking him for his sacrifices.
Over the years, "SpongeBob Squarepants" became a show that millions of people, children and adults alike, have enjoyed. It was all thanks to Hillenburg's passion for cartoons and his love of marine animals that will allow his famed cartoon to be remembered for generations to come.

Hang on for a minute...we're trying to find some more stories you might like.
About the Contributor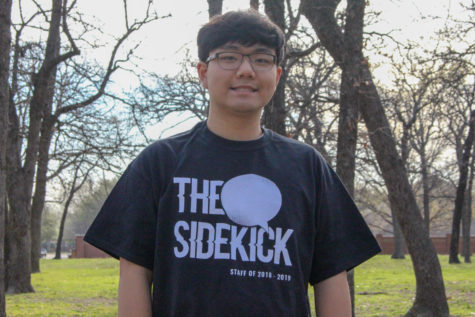 Ryan Kim, Staff Designer
Ryan is a junior and a first year designer on The Sidekick. During his free time, he spends his time drawing, writing stories or making videos. For any...