Tepper carries on journalism legacy through magazine, broadcast
Greg Tepper, former Sports Editor of The Sidekick, once wrote a story on noodling (the art of catching a catfish on one's forearm). He also won an Emmy for sportscasting in August. He also wrote for the Dallas Morning News and for half a dozen other publications. Since his time at Coppell High School, Tepper has done a lot of things and made a name for himself doing so.
Tepper graduated from CHS in 2004 and from the University of Missouri in 2008, majoring in newspaper journalism. From there he went to Tulsa World in Tulsa, Okla. for his first job out of college. He then went to the Dallas Morning News community paper, where he worked as a sports writer. In 2011, Tepper was named associate editor at Dave Campbell's Texas Football magazine, where he became the managing editor two years later. Since then, he has written for the magazine and co-hosts "Fox Football Friday Powered by DCTF" and "High School Scoreboard Live" on Fox Sports Southwest.
All of these jobs, of course, happened after his first newspaper experience on The Sidekick.
"I remember remarking how similar [my time on The Sidekick] was to the real journalism world," Tepper said. "It helped me get a head start and feel more comfortable right away."
His whole life, Tepper has been interested in sports. Once he got to high school, he found an avenue through which to express his opinions on sports through the student-run newspaper. In The Sidekick's newsroom, Tepper would frequently make bold predictions about the upcoming football game. Naturally, other staff members would challenge and debate with him, but the sports editor was not often wrong.
"Any time the rest of the staff could prove him wrong, that was always fun," former Sidekick advisor James Rich said. "That is probably my fondest memory of that whole staff."
In Rich's eyes, Tepper was made to be in sports journalism. All the way back to his high school days, Tepper has had what it takes.
"From the very beginning, I told him that if he works hard and does his research, he would make it. And that's what he did and continues to do," Rich said. "He had his goals – where he wanted to be – and today, 15 or 16 years later, he's seeing those dreams come to pass."
In journalism – a field in which the same story is told by a dozen different news sources – a way to stand out is to develop a "voice" for oneself. In developing one's own way of writing or broadcasting, he/she creates a identity by which to be recognized. Over the years, Tepper has developed his personal, light-hearted charm on camera.
"When I started doing high school football [broadcasting], I made a decision that 'I'm just going to be me'," Tepper said. "When I'm doing a show, I don't put on an act. I'm just me and 'me' is somebody who makes dumb jokes. 'Me' is somebody who makes silly pop culture references… that's who I am."
Throughout his professional career, Tepper has used that personality to acquire different jobs and accomplishments. However, the biggest contributor to his success is his willingness to say "yeah, sure. Why not?", as he put it.
Tepper began his broadcasting career in 2011 when he was asked to fill his predecessor's role at Texas Football magazine. And he greeted that request with the same aforementioned agreeance. Thus, the reign of broadcasting that would eventually lead to an Emmy was birthed with a "why not?".
Through his high school days all the way up to his current job, Tepper has been ready to jump on any opportunity that comes his way. Hitting every challenge head-on with a slight smile on his lips and a quick-witted comment in the back of his mind, Tepper continues to carry on the legacy that originated in The Sidekick newsroom.
About the Contributor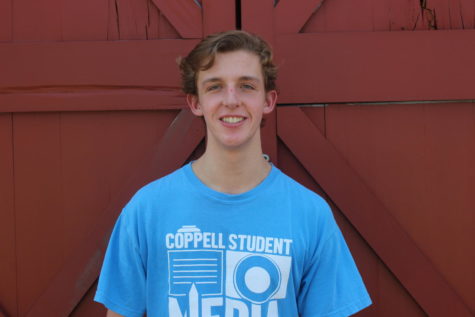 Nicholas Pranske, Executive Copy and Design Editor
Nicholas is a senior and in his third year on The Sidekick staff. He enjoys reading the encyclopedia cover to cover and polishing shoes. You can often...