Overtime run lifts Cowboys over Rockwall-Heath
With less than a second left on the clock, a buzzer-beater by Rockwall-Heath senior guard Kameron Pruitt, the Coppell basketball team was tied heading into overtime last night.
However, the Cowboys were able to take the lead and win, 59-55, at the CHS arena.
During overtime, the Cowboys were able to keep the ball away from the Hawks, forcing them to foul. Big plays by junior Adam Moussa, pushed the Cowboys past the Hawks last night.
"We stepped up during the second half, but we need to stay consistent," Coppell coach Clint Schnell said. "Taking good shots and getting the ball to our scorers, I think was the biggest thing."
In the first half, the Cowboys struggled to put points on the board, against the Hawk defense. However, freshman guard Ryan Agarwal was able to hit two 3-pointers during the first quarter, to stay in the game.
"We knew that every shot would be important in this game," Agarwal said. "The team had some wide open looks, and we were able to hit some important shots to stay in the game."
One consistent aspect, however, was the ability for the Cowboys to move the ball around in the paint. This opened up the opportunities for senior point guard Tariq Aman to shoot multiple 3-pointers and a few layups throughout the second half.
The second half was similar to the first, as the Cowboys stayed close to the Hawks. Both teams kept scoring back and forth, but the Cowboys were able to take the lead late into the fourth. However, the Hawks were able to make a last second push down six, to take the game to overtime.
The Cowboys return to action Friday as they travel to Lewisville to face the Farmers, in their first division game of the season. The game will start at 8 p.m. in the Lewisville arena.
About the Writer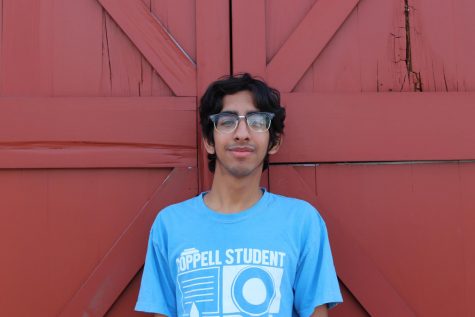 Arman Merchant, Staff Writer
Arman Merchant is a senior and a third-year staffer on The Sidekick. He enjoys his time watching football, listening to music and walking his dog. With...