Up-and-coming talent: Peeks selected as sole freshman on varsity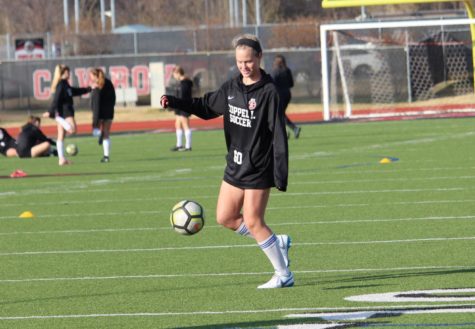 Last season, the Coppell girls soccer team consisted of 25 players, of which a majority were underclassmen and only two were seniors.
Though the young team was somewhat inexperienced, it still had a successful season- winning the District 9-6A championship and fighting its way to the Class 6A Region II semifinals. However, this season, the Cowgirls' roster only holds a single freshman: defensive midfielder Bailey Peeks.

Coppell girls coach Ryan Dunlevy sees a bright future for Peeks as a Cowgirl.


"She has the right attitude and the right approach to practice every day, she comes in and does exactly what we ask of her at full speed every practice," Dunlevy said. "She is a very technical and coachable player."
Playing soccer since age 4, Peeks was one of the few eighth grade players whose performance during the Coppell Middle School soccer season last year caught the eyes of CHS coaches. But after practicing with the Cowgirls JV1 team for a while, Peeks was the only freshman who was moved up to varsity.


"She is working really hard to understand our approach and our style, and I have been very impressed with the way she is playing," Dunlevy said. "For me, there was no question she is a varsity level player as a freshman, and I expect her to contribute to our success this year."

Maza Ozymy is a sophomore at CHS and also Peeks' teammate on the Cowgirls.
"Bailey is a great teammate. Her performance on the field is really good for a 14-year-old," Ozymy said. "She is always working hard in practice and pushes through hard training sessions."

Playing alongside teammates one to three years older than her is new for Peeks, but she remains optimistic about the future.


"It's kind of scary [being the youngest] sometimes, but they are all pretty nice," Peeks said. "I was nervous talking to a lot of people for a while. But I hope to, later on, make more friends and open up more. I want to see myself as a better friend, better communicator and player by the end of the season."


The Cowgirls performed well last year, despite the lack of experience. But now, equipped with a more seasoned squad, Dunlevy thinks the team will be a more serious a contender for the State Championship, a title the Cowgirls last held in 2015.


"I want to help us get to State because we have not won it in a while,"  Peeks said. "It would really cool to be on a state champion team in my freshmen year."


With her first season match Dec. 29 against Denton Ryan, Peeks looks forward to what her high school career has in store for her.