Coppell residents opening their wallets for Black Friday
Last year, 174 million Americans shopped during the Black Friday weekend, spending more than $691 billion total. It is not hard to understand why, as a multitude of companies offer rare discounts on this Friday after Thanksgiving.
"Stores benefit from all the people coming in the door [because of Black Friday Sales]," Irving Michaels employee Makayla Caldwell said. "Especially since we have a lot of stores around us. People might come to this area for one of our neighboring shops, but then they could notice we have sales too and decide to stop by our store before they leave."
However, not all stores view Black Friday as an extremely special day. For example, Half Price Books typically offers higher sales the weekend before Christmas.
"Black Friday is just another sale day for us," Irving Half Price Books manager David Ray-Stone said. "It's not necessarily the time we offer the highest sales, though. And we also have periodic discounts through our mailing lists."
Like many other companies, Half Price Books had a doorbuster deal this year; the first 100 people who entered their store today received a free tote bag with a gift card inside. While most were worth $5, one random gift card was for $100. The shop opens at 9 a.m., and people were showing up outside its doors by 7:45-8 a.m.
"The very beginning of the day is very busy [because of the doorbuster deal], since a lot of people want to try to get lucky and get that $100 gift card," Ray-Stone said. "And then it stays pretty busy throughout the entire day, [because] people want to take advantage of that 20 percent off."
Although many still bombard malls as soon as the clock strikes midnight on Black Friday, online shopping is on the rise.
"Other people might not like all the crowds during Black Friday, so that might be why they're doing online shopping instead," Coppell High School sophomore Adelyn Wilson said. "[But I] definitely [like] in-person Black Friday shopping better than online, because you can try on clothes and make sure they fit well and are good quality."
Black Friday is almost over, but the shopping sprees are not, as Cyber Monday is just around the corner.
Follow Pramika on Twitter @pramika_kadari

Hang on for a minute...we're trying to find some more stories you might like.
About the Contributor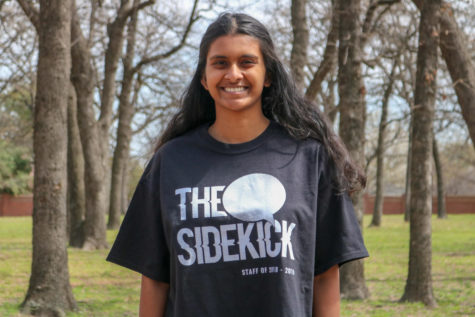 Pramika Kadari, Copy Editor
Pramika Kadari is a junior and the Copy Editor on The Sidekick. In her free time, she enjoys reading, writing, watching movies and spending time with friends....