Kavanaugh's effect on feminism
Relationship between women's rights, politics
Weeks after President Donald Trump's nominee Brett Kavanaugh got confirmed into the Supreme Court in place of Anthony Kennedy as one of nine Justices, the effects of his confirmation would still be felt in the world of feminism.
Prior to Kavanaugh's confirmation, California professor Christine Blasey Ford came forward with her story of sexual assault, adding to the #MeToo Movement. Although, after both Ford and Kavanaugh testified in court, Kavanaugh was confirmed into the Supreme Court.
This created a rift and confusion among feminists alike around the country.
Prior to Ford's allegations, many other women came forward with their stories such as against Bill Cosby and Harvey Weinstein.
"After Cosby and Weinstein, it was a whole world that got upside down," CHS junior Fran Jaubert said. "What used to be shush situations in little corners that women were expected to just put up with and move on has now turned into a national conversation."
These are success stories of women coming forward; Kavanaugh's is not.
After the testimony, Kavanaugh was confirmed with a 50-48 vote and Ford has since been hidden from the media, avoiding them and keeping out of the public eye.
This has raised questions on not only her case but on the #MeToo Movement itself.
"The #MeToo Movement is being questioned because people refuse to believe these statistics," Jaubert said. "At the end of the day, one in three women have experienced sexual harassment and at least one in 20 is sexually assaulted. That is what needs to be acknowledged."
The allegations brought the movement into the world of politics, where anything can be spun to alter the initial meaning.
Feminism and politics have had a long and lingering relationship, reaching back to first wave feminism which got its roots in the 18th century. In its earliest and purest form, feminism focused on women having basic human rights such as the right to vote. They had to get politics involved in order to achieve their goals.
"Once suffrage was achieved in 1920, that set predicate that women's protections under the law was achieved through petitioning the government," IB Economics teacher Jared Stansel said. "So if women want more things in the future, what do they have to do? Petition the government. That means to promote certain candidates, certain nominees that will give you the things you want from government. Once that ball starts rolling, it's kind of hard to stop that momentum."
The relationship between feminism and politics in first wave feminism was necessary for change to occur and to gain women their right to vote. It has evolved and politics found a way to use feminism to its advantage.
"There is a negative connotation that the word feminism carries particularly in the political climate today," CHS AP/GT English teacher Melissa Alexander said. "When people, particularly that label themselves conservatives, sometimes have negative reactions to the word feminism. As a result, if you support the #MeToo Movement, there's no happy medium and there's no reality of women who have been sexually harassed. It's like, if you support the #MeToo Movement and you hate Brett Kavanaugh, then you're obviously a liar and as a result, it does affect the feminist movement and feminist ideals."
According to the Dallas Morning News, there has been a 50 percent increase in the number of calls National Sexual Assault Hotline received after Sept. 17 and 10,000 more people called in September 2018 as opposed to September 2017.
Politics has had a hand on feminism since the day feminism was established, whether in a positive or negative light. It has become more negative and toxic over the years.
"As a women we are all going to suffer some type of harassment, but some of them have obviously been more traumatic than others," Alexander said.
Follow Anika on Twitter @AnikaArutla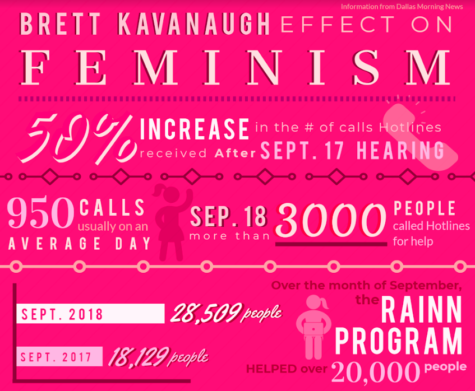 About the Photographer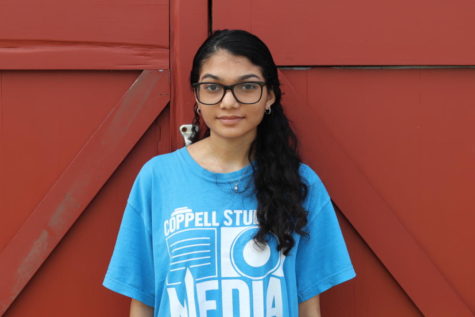 Shriya Vanparia, Staff Designer
Shriya Vanparia is a senior and a second year staffer on The Sidekick. In her free time, she loves to draw, paint and listen to music. With comments and...