CHS hosts Red Jacket reunion for first time in 10 years
The library buzzes with anticipation in preparation for the upcoming breakfast. Students in black shirts mill around, chatting with friends, and the same black shirts covered a table nearby, along with frames of past graduation years. One picture has signatures floating around it.
For the first time, Coppell High School hosted a reunion for all current and former Red Jacket members since the organization was started 10 years ago by then-principal (now Coppell ISD Superintendent) Brad Hunt.
Invitees gathered in the library, where a slideshow of previous Red Jacket pictures was played on the screen, and comments of "Hey, look, that's us!" could occasionally be heard. Breakfast was served, and a number of staff members and friends came to visit former students.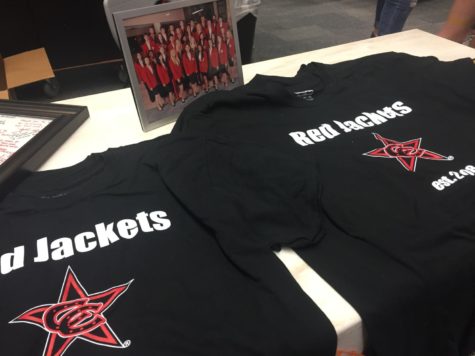 One former student was Kevin Rutledge, a 2010 CHS graduate and Baylor University alumni. He now works for Bell Helicopters in Fort Worth and was eager to see how CHS has changed since he attended.
Rutledge has stayed close with CHS AP US History teacher Kevin Casey over the years. Casey, who is aware of Rutledge's schedule, invited him to return to the school for the memorable event. Other staff members came to visit Rutledge as well, who seems to have maintained connections at CHS since leaving.
Rutledge had attended a football game at CHS two years ago but has not been inside the school in eight years. He planned to attend the pep rally after the breakfast. He also played football and baseball for CHS.
"It's cool to see how [the arena and football field] have changed, so I wish I had that when I was here," Rutledge said.
Senior Dylan Griffin was also excited to meet Rutledge.
"It's cool to see someone who was in my position and how their life went after high school," Griffin said.
Although it has been many years since most of the former students who attended had graduated, the conversations were nothing if not nostalgic. Many current students were interested in learning in what CHS was like when they were just eight years old. The energy at the breakfast, which ended at 9 a.m., continued into the pep rally, where both current and former Red Jackets participated in Senior Night.