Haunted halls of New Tech bring spine-chilling scares
With creepy clowns, a full moon and haunted house, this could only mean one thing: It is Halloween time at New Tech High @ Coppell, and the scares were back and better than ever.
On October 25, New Tech held its annual haunted house and Fall Festival. The event was welcome to the public and was located in eight fully-decorated rooms of [email protected] including a doll house, a clown room and many more.
This year marks New Tech's 11th haunted house since it was founded in 2008.
It was held on [email protected] grounds from 7-9 p.m, right after the Pumpkin Chunkin' and the Fall Festival occurred. Students voluntarily began setting up for the events the moment the last bell rang. These activities consisted of face paint, food booths starting at 50 cents and launching pumpkins.  
The haunted house was organized by Networking Team Captains (NTC) and the Leadership Council for the school (LLC).
Small handfuls of groups began to line up as the event opened began and gradually increased over time. With countless people dressed up in skeleton costumes and jumping around in excitement, the intriguing event caused more to tag along. The line eventually wrapped around a majority of the school.
This event is very affordable and enjoyable to many kids from all ages.
Tickets were $5 at the door, located at the main loop of the school. This year's theme is "Crime Scene", meaning that before entering the actual event started, you could pay an extra dollar to help solve the mystery of the night. As people entered, the scene was filled with caution tape, giving the participants a taste of what was to come.
The haunted house began at the end of the first hallway, surrounded by tinted red lights peeping out of the room. There were multiple [email protected] students who volunteered as ushers for the participants, leading them through the rooms.
Many were hesitant as they heard belching screams from deep inside. Ushers were only allowed to take them in one group at a time primarily for safety precautions.
"I take whatever group that comes in with their family and friends inside and lead them through since it's pretty dark and they don't know the way," [email protected] senior Kamya Pentakota said.
The house was set up like a maze, consisting of eight different rooms such as the doll room, a mad scientist lab and many more. After every room there was a half-door leading onto the next, along with jump scares and actors popping up behind you along the way.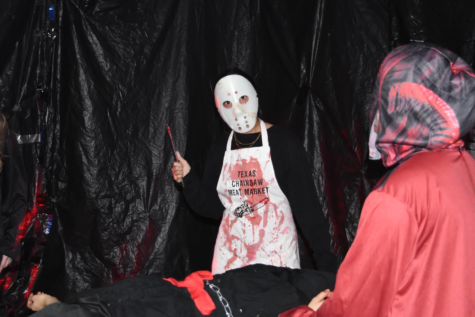 "We have to go through our inventory and think about what's actually going to be scary, and that's honestly the hardest part," senior NTC leadership captain Caroline Perry said. "Sitting here and thinking about what's going to be scary enough and what's going to be approved by admins is very important, so we had to find a happy medium."
Perry has been helping to plan and perfect this event with other members of the leadership councils since late September.
The multiple activities and bloodcurdling scares made for the biggest turnout [email protected] has seen yet.
New Tech made more than $1,900 last night and more than 350 people came to the haunted house.
All proceeds from the events will go towards raising money for the annual senior charity at the school: Special Olympics.
The Class of 2019 came together and chose this as the charity they wanted to help out the most.
"Special Olympics is a charity for people who are mentally and physically disabled, and they participate in all kinds of sports, no matter what their disability is," LLC co-sponsor Anthony Hufford said. "Their mission statement is to empower people who might feel incapable to be involved in those type or sports or games."
The purpose of this event is not only to raise profit for charity, but to bring the community together for a jaw-dropping and entertaining night.
People are already prepared for next year's event, hoping it will get creepier and more fun in the future.