Q&A: Grady joins CHS with hopes of spreading Spanish language, culture
Spanish II and III teacher Linda Grady began her first year at Coppell High School after coming from Hurst-Euless-Bedford ISD (HEB-ISD), where she worked for six years. She currently teaches three Spanish II classes and three Spanish III classes. While she has lived in the DFW area for more than 25 years, she now finds herself at home in room C127.
Where did you teach before you came to Coppell?
I used to work at Trinity High School in Euless, Texas.
Why did you decide to teach at CHS?
Just the opportunity to teach in [the] Spanish II and III levels and get the reputation. It was kind of exciting to try something new.
What are some differences between CHS and Trinity?
There's a lot more technology here, [and] that was kind of overwhelming at first to get used to. Having all of those resources, it was a nice added benefit.
What was your first day like?
It was nerve wracking, not knowing anybody, but [it] was exciting and the students were very nice. Everyone was very welcoming so it was a really nice day.
Who showed you the ropes?
My department has been very welcoming and very helpful. [Spanish II and III teacher Jamie Hewitt] is also new, [and she has] done levels of Spanish that I haven't done and has helped with that. [AP U.S. history teacher Kevin Casey], who is my mentor, has been very helpful. Really everyone has been very helpful and welcoming, but my department has been very helpful.
What struggles have you faced?
Understanding how to put things on Schoology, going back to the technology, having three different preps, working with the team instead of being an island teacher, actually working as a unit to get things done [and] just getting used to that. It was just a little different for me to do.
What do you think about the CHS faculty and students?
I think they are very nice. They are very welcoming and motivated. There are a lot of very high achieving students – students that want to try hard and do their best. I am very impressed.
Why did you love teaching Spanish?
I like being able to share the gifts and talents I have with students. I want them to be interested in the language and the people. There is a rich culture there, so I really want to share that and get them excited about it. Learning a foreign language, it can be very overwhelming to people and so I'm hoping to be able to help with that and make them a little more interested.
If you could say one thing to yourself a year ago, what would it be?
Just keep trying to do your best. Look for ways to continue to motivate students and be excited. Try to share that enthusiasm and excitement because this is new to them, so even if you've done it for the sixth time that day, it's new to those kids. Just keep up that level of interest and help them.
Follow Sally (@sparampottil) for more.
About the Contributors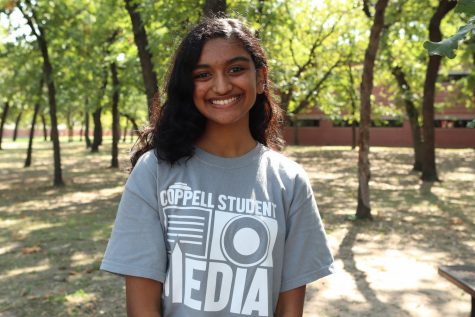 Sally Parampottil, Executive Editor-in-Chief
Sally is a senior and the Executive Editor-in-Chief on The Sidekick. While she's done just about everything possible on staff, she loves writing for sports...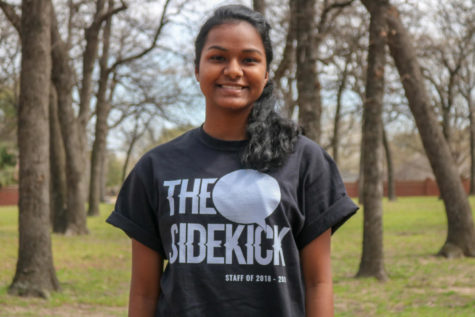 Rishitha Penmetsa, Staff Photographer
Rishitha Penmetsa is a senior and a first year photographer on The Sidekick. During her free time she enjoys dancing, reading, and hanging out with...