Extending my love of storytelling to screen
Last March, after I first watched the short television program "The End of The … World", which is now my favorite TV show, it was all I could think about for weeks.
Between classes, I scoured through a multitude of critics' reviews; during tests, scenes from the show flashed through my mind; while eating, my eyes were glued to interviews with the show creators.
And for the first time in my life, I wanted to study something other than only English.
Throughout my life, I have loved literature. I have adored writing. But I have realized that more than specifically reading and crafting words, what I really cherish is storytelling, which cinema is just another form of. Not for a second did I consider not studying English; instead, I was contemplating adding film as a double-major. "The End of The .. World" is beautiful beyond words; to create something that beautiful would be immensely fulfilling.
But as I started researching the movie industry, my newfound excitement began to fade as I learned more about it.
It is basically impossible for screenwriters to get their own scripts made into movies.
You will never get to make the cinema you actually want to make.
Success in film is all about who you know.
Screenplays are sometimes changed so drastically throughout the movie-making process that it might barely be the writer's own piece by the end.
These Internet statements dampened my passion for film before it could even develop. For several months, although I did not completely eliminate the idea of studying it, I convinced myself doing so was impractical.
One of my biggest fears was – and still is  – how collaborative film is. I do not like depending on people, and I would hate someone controlling how my creative project should or should not be. Also, I am afraid my characters will not feel like my own when they also belong to the movie's other contributors.
But a few weeks ago, on YouTube, I stumbled across "My Heart Will Go On" by Celine Dion, a gorgeous soundtrack from the 1997 movie Titanic. The thumbnail photo is one of the most beautiful shots I have seen from any cinema — a breathtaking scene during which the two main characters stand at the edge of the ship, looking out into the endless ocean, their eyes lit up with a euphoric sense of freedom.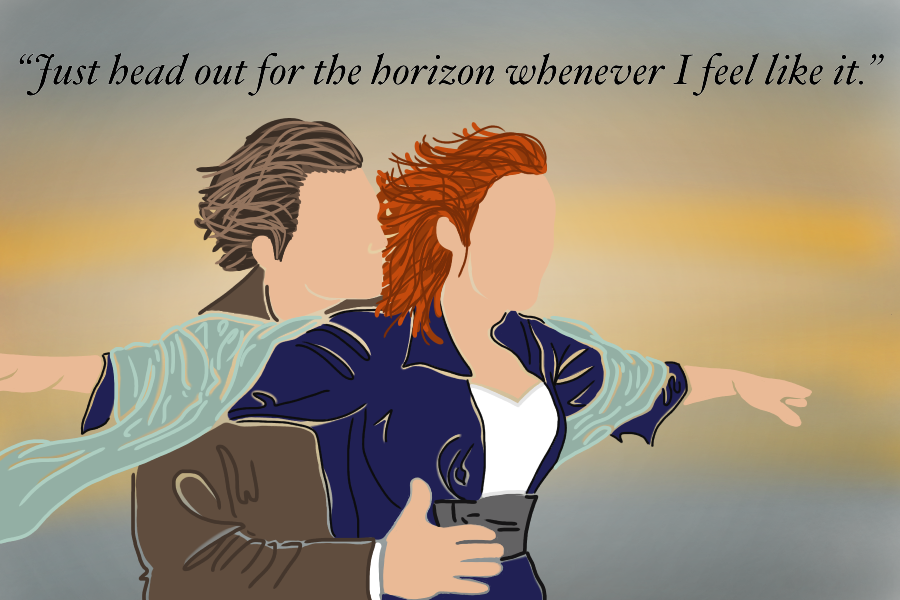 I was intrigued.
So intrigued that for the rest of the week I eagerly awaited Friday night when I would have time to rewatch the movie. I had seen Titanic when I was younger, but barely remembered the story, as I was too young to understand it well then.
By the end of my rewatch that Friday, I knew that I was wrong before, that I did want to study film. Had to.
Despite all the things I have read about the industry that scare me, I know I have to study cinema because of how fully my love for a film can consume me. After watching a fulfilling movie, my entire life feels richer, happier, more vibrant and inspired.
Both "The End of The … World" and Titanic model the kind of movies I want to make. Although I enjoy the science fiction and psychological thriller genres that offer mind-bending movies such as Inception, Donnie Darko and Shutter Island, the crux of my love for storytelling lies in characters and emotional impact — two things that go hand in hand.
Rose DeWitt Bukater from Titanic as well as both James and Alyssa from "The End of the … World" some of my all-time favorite characters. Even though our lives are drastically different, I relate to them. That is what makes a great character in the relatability aspect. Not surface level similarities, but common feelings in the core of our human souls.
The featured characters are all dynamic, popping off the screen with powerful character arcs and leaving an emotional mark on viewers' hearts.
Rose, who starts out as a suicidal victim of an abusive relationship, grows into someone who, moments after her lover's death, drags her numb body through freezing water to call for a lifeboat and save herself. Alyssa, who hides in the bathroom to cry near the beginning of the show, opens up much more throughout the story as by the end she unapologetically tears up in front of her father and lover while telling the former, "You can't just make people and then abandon them." James goes from being a self-proclaimed emotionless psychopath to someone who sacrifices his life for his loved one and expresses, "I think I understand … what people mean to each other."
I am currently planning a short film, and hope to collaborate with members of the Coppell High School theater department to bring it to life later this year.
Creative careers are risky. Having loved English all my life, I am used to not having a straight-cut plan for my future, but film is just that much more unpredictable. Although I am not sure what the road there will be like, I am already looking forward to the day I step on set of my first feature film.