Kicking for a purpose
Davis dedicates season to pediatric cancer relief
After visiting 3-year-old Hannah, a pediatric cancer survivor, at the preschool where his mom teaches, Coppell High School senior Caden Davis knew what he could do to help.
While Hannah has been cancer-free for a few months, there are plenty more victims of the ruthless disease. Davis decided to dedicate his last football season at CHS to Alex's Lemonade Stand Foundation (ALSF), a non-profit organization whose goal is to help kids with cancer.
ALSF was first inspired by Alex herself, Alexandra Scott. In 1996, then just 4 years old, Scott wanted to have a lemonade stand to raise money for other kids as they were going through cancer treatment. Thus, the name was born. By the time of Scott's death in 2004, the foundation had raised over $1 million toward research.
Davis, the starting kicker for the CHS football team and orally committed to Texas A&M, was touched by both Hannah and Alex's stories and wanted to pitch in. So, Davis set a goal for 95 points throughout his football season. Family, friends and supporters have the opportunity of pledging a dollar amount for each point he scores.
"A lot of people at a kicking camp that I go to have done this," Davis said. "Once I met Hannah, I realized that I wanted to do it too."
However, this philanthropic idea is not only for high school kickers. For Davis, this has gone further than the football field. Once initiated by Davis and his mother, Annick Davis, many citizens from around Coppell reached out and asked what they could do to help.
One of those people is Kelly Freedman, owner and founder of Show Your Spirit, a Coppell-based mum and garter business. Freedman came up with the idea of making the donations people give more physical. For $10, community members, homecoming-goers or supporters of the cause can buy a "Kicked with w/Caden" ribbon — all proceeds, of course, going towards ASLF.
"It's really great to see members of the community wanting to step in and help," Mrs. Davis said.
Many local businesses have also pledged money per point and have begun advocating for the cause in their businesses.
Heading into the school year, the donor crowd was not very big. However, one moment in Davis' season brought some attention to it — one 57-yard moment. In the first game of the 2018 season, Davis kicked a 57-yard field goal to beat Sachse in the final second of the game. Following this, many people caught wind of ASLF and Davis' cause and began to donate.
"With Caden's big field goal against Sachse, I can't help but wonder that it happened because he was kicking for a bigger purpose," Mrs. Davis said. "Because of the attention put on it, we were able to look at it as bigger than football."
Bigger than football. Bigger than Davis and bigger than Coppell. Davis is kicking for Hannah and all the kids out there who had to suffer through the same. Davis is kicking for cancer.
Donations are open at www.alexslemonade.org/mypage/1505820
Follow Nicholas on Twitter at @Nick_Pranske8
Hang on for a minute...we're trying to find some more stories you might like.
About the Writer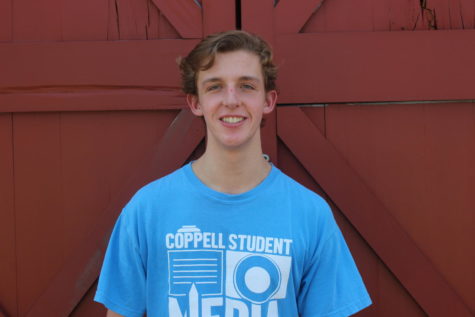 Nicholas Pranske, Executive Copy and Design Editor
Nicholas is a senior and in his third year on The Sidekick staff. He enjoys reading the encyclopedia cover to cover and polishing shoes. You can often...