Cooler weather, spooky movies
Fall offering events to appreciate coming season
With the 95 degree shorts weather still lingering over Coppell, fall seems weeks away. However, as Michael Jackson's Thriller fills the air and pumpkin spice related drinks and food become available, the nostalgia of fall can easily be felt.
There are many ways to enjoy the season, among them being movies.
The latest addition to JK Rowling's magical world, Fantastic Beasts and Where to Find Them: The Crimes of Grindelwald which comes out Nov. 16, wraps the feeling of Halloween into one movie. The movie features the protagonist, Newt Scamander coming head to head with one of Rowling's greatest characters, Albus Dumbledore. Together, Scamander and Dumbledore must join forces to defeat Gellert Grindelwald (Johnny Depp).  
It is safe to say that Marvel is at the peak of their game by producing top-grossing movies. Their latest installment, Venom, which comes out Oct. 5, will be no exception. Although Venom has darker tones and themes, leaning more towards Deadpool than Thor: Ragnarok, it is still expected to be humorous. The storyline follows reporter Eddie Brock and his internal conflict when an alien parasite invades his body.
Another way to enjoy the season includes numerous concerts.
The most notable guest coming to Dallas in October is Taylor Swift on her Reputation Stadium Tour. Swift, who made a bold statement with her latest album, will surely perform an entertaining show. She will be in town from Oct. 5-6 and the concert will take place at the AT&T Stadium. There are still tickets for sale that start at $275 and go up to $1,000.
Swift's longtime friend and all time favorite ginger, Ed Sheeran, will also be coming to Dallas in October. Sheeran announced over a year ago that he would be doing a 2018 stadium tour which began at the Rose Bowl Stadium in Pasadena, Calif. Among the 15 stops on this tour, AT&T Stadium is on the list. Sheeran's concert is on Oct. 27. Ticket prices start at $69 and go up to $125.
Contrasting the indoor opportunities, there are outdoor events that bring a refreshing take on the season.
One of the more distinguished characteristics of fall are pumpkins. Flower Mound hosts an annual pumpkin patch that runs from Oct. 1-31. The event runs from 9 a.m. to 7 p.m. each day that it is open;parking costs $5 on weekdays and $10 on weekends. Other activities are free of charge and the purchase of food or pumpkins is optional. For more information go to flowermoundpumpkinpatch.com
About the Writer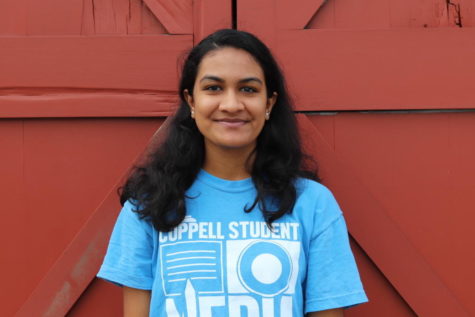 Anika Arutla, Social Media Manager
Anika is a senior at Coppell High School and it is her third year on the Sidekick staff. When she isn't writing, you can find her reading, watching movies,...