Summer's almost here and so are your favorite musical artists
One of the most enthralling and entertaining activities to look forward to are the concerts scheduled for this summer.  With all sorts of new, hit releases by our most beloved artists, a myriad of amazing concerts will be available. Check out some of the ones below.
Harry Styles – Live On Tour
When: June 5
Where: American Airlines Center
Tickets: $18 – $275
To kick off both the summer and his solo career, Harry Styles is coming to Dallas to perform his self-titled debut album. This popular album is going to be the main feature of his concert – however, be prepared for Styles to blow your mind with additional covers and cool artists performing in the opening acts.
Chris Brown – Heartbreak On A Full Moon Tour
When: July 1
Where: Dos Equis Pavilion
Tickets: $19 – 187$
Global superstar Chris Brown will be performing his newest album, along with a few of his older classics in Dallas at a unique pavilion. This outdoor venue gives people the chance to experience music on a new level, as there is plenty of room to move around and get comfortable. Expect an awesome performance from Rich The Kid, who is tagging along with Brown on this near five-star concert.
Kendrick Lamar
When: July 14
Where: American Airlines Center
Ticket: $39 – $200
This concert is one that you do not want to miss, Kendrick Lamar is not only bringing his own
talent, but Travis Scott and D.R.A.M. as well. Although Lamar tours often, it is more than likely going to be a once in a lifetime experience to get the chance to listen to all three of those performers in the same venue.
Sam Smith
When: July 20
Where: American Airlines Center
Ticket: $35 – $125
Sam Smith has always produced popular music that he has performed in a multitude of places, but this time he's coming back to Dallas to sing his new album: The Thrill of It All, which was released in 2017.
Ed Sheeran
When: August 18
Where: American Airlines Center
Tickets: $39 – $125
By the time it's August, school will be starting again soon, and what better way to end a memorable summer than to listen to the beautiful music that Ed Sheeran sings, with a highlight on his newest album, Divide.
J Cole
When: August 20
Where: American Airlines Center
Tickets: $49 – $150
If you are interesting in ending your summer with an event you won't forget, you should highly consider purchasing a ticket to J. Cole's concert, where he will perform hits from his new 2018 "KOD" album in which he dropped early April. J. Cole is only visiting 57 cities nationwide, and Dallas just so happens to be one, so take advantage of this opportunity to enjoy his music.

Hang on for a minute...we're trying to find some more stories you might like.
About the Writer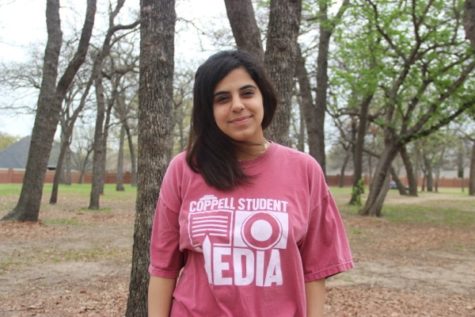 Tara Ansari, Staff Writer
Tara is a junior at Coppell High School, she is a current staff writer for The Sidekick and has dreams of becoming the editor of a major newspaper. She...