On The Spot: Top five percent display rapport with chosen teacher in portraits (with video)
As a long standing tradition at Coppell High School, the top five percent of the graduating class are taking photos with a favorite teacher.
Last month, these seniors invited a teacher to the upcoming annual Coppell Education Foundation Banquet on April 24 at the Courtyard by Marriott in Grapevine. A component of this custom is for the two to take a photo of their choice representing the quirks, characteristics and jokes involved in their relationship.
The top five percent seniors proposed their ideas to their teachers, discussing what exactly they wanted their photo to look like. These portraits will be shot today and tomorrow.
For top 5 percent senior Ashna Pathan, it is the perfect way to show off the dynamics between her and head band director Gerry Miller.
"He's infamous in our class for making up his own science to make up analogies," Pathan said. "I wanted to take the whiteboard and write 'wind symphony', cross it out and then write 'Miller Science'. We're going to draw his diagrams and he's going to sit and play the clarinet, which is what I play, and look really confused while I use his baton and point to the diagrams."
Similarly, senior Dheemant Dammanna and IB math teacher Ian VanderSchee are taking this opportunity to show their light-hearted relationship through humor.
"We both like math and we both like puns," VanderSchee said. "So, we are dressing up in suits and I'm going to wear a name tag that says 'gent' and he's going to wear a name tag that says 'tangent'."
About the Writer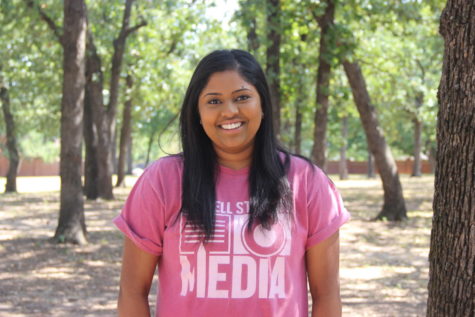 Sruthi Boppuri, Communications Manager
Sruthi Boppuri is a senior and the Communications Manager for The Sidekick. She is interested in art, movies & television, and visiting new places....