Coppell to Burgos: Holmstrup takes on Spain as exchange student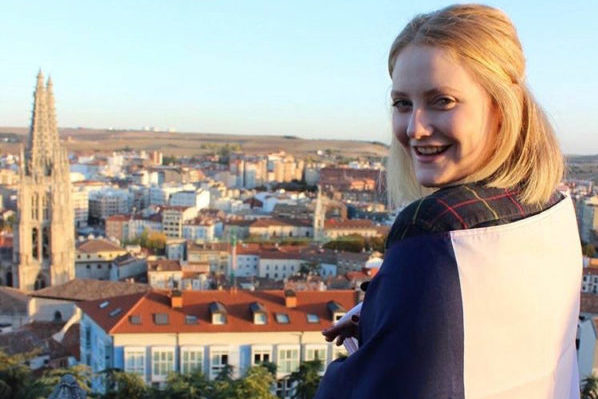 On a typical Monday morning, Coppell High School junior Kyra Holmstrup rides the city bus through cobblestone alleys and medieval cathedrals to her school in Spain where she has spent the past five months as a foreign exchange student from CHS.
After attending CHS for two years, Holmstrup decided it was time for a change.
When her mother, Jasmine Holmstrup, introduced Holmstrup to the Rotary International exchange program, Holmstrup leapt at the opportunity to attend school for 10 months in Burgos, a city in northern Spain.
Rotary International, a global organization that unites professional and business leaders to provide services, allows foreign exchange students to travel to other countries while forming new relationships and learning in nontraditional settings.
Holmstrup is just one of the 120 foreign exchange students in Spain who shares these interests.
With more than 33,000 rotary clubs in the world, students from France to India and Brazil to Japan can experience life and learning on the other side of the globe. This process allows students to live in the countries of one another, sometimes even under the personal homes of other exchange students.
Unexpected friendships form from this aspect of the Rotary International exchange program.
The Holmstrup family hosts Leticia Ogusuku-Cecato, a foreign exchange student from Sao Paulo, Brazil, who is a junior attending Coppell High School. Ogusuku-Cecato and Holmstrup connected through the program and now have a close friendship.
"We went to New Mexico my second week here," Ogusuku-Cecato said. "We only had a month together, but Kyra – she is like my sister now. We enjoyed alot together."
Holmstrup's mother, a former Rotarian and foreign exchange student of Ecuador, inspired her to take on the culture and nontraditional learning that Spain offers.
"It was my mom who really gave me the idea – she's fluent in Spanish today, and after she went to Ecuador, she studied South American culture in Costa Rica," Holmstrup said. "So that was something that was always on the back on my mind."
Although Holmstrup has traveled to several foreign countries such as England and Mexico on mission trips, Spain is an experience she has never encountered before.
Settling in Burgos in September, Holmstrup went through a dramatic cultural shock to life in Spain, as adjustment to her new home challenged her lifestyle in Coppell. In the course of five months, she has lived with three seperate host families.
"[Holmstrup] made quite an effort to be proactive into our habits, culture, and language, and quite often she has succeeded in that," said Carlos Garcia, Holmstrup's host father.
With the school system in Spain differing widely to the one in America, Holmstrup has faced challenges in her education while attending her school, IES Cardenal Lopez de Mendoza. With differences in the grading system, classroom size and learning methods without technology, Holmstrup needed to adapt to her new learning environment.
"The first few weeks of school were really difficult. I had no idea how to even learn in class without a computer or Google," Holmstrup said.
Holmstrup initially struggled to connect and bond with those around her as language barriers and miscommunication were common. With Coppell classes teaching Spanish differing from the one spoken in Spain, Holmstrup faced this problem often.
"A lot of us exchange students come with barely any language, or we think we have enough, but it's really nothing," Holmstrup said.
Through these barriers of miscommunication, Holmstrup has faced occasional misconceptions from Spaniards as an American.
"I learned that mutual respect went a long way," Holmstrup said. "I would talk to them about my point and view and what I saw of the United States."
Despite these challenges, Holmstrup strives to immerse herself completely in her unfamiliar environment by joining a basketball team and even jumping immediately into one on one tutoring to improve her Spanish skills.
"At first, it's difficult because [people in Spain] really have to work to understand you and get your personality across," Holmstrup said. "Once you speak the language, you can really start connecting with the teenagers here."
Now speaking fluently and forming new friendships, Holmstrup enjoys her experience so far in Spain, along with the amusing cultural and societal norms that it offers.
"A lot of Spaniards are late to everything – if a party starts at 9, you don't show up until 10:30," Holmstrup said. "You can always pick out the Americans because we're always there early."
Viewpoints about culture go both ways as those in Spain also learn about Holmstrup's background and story.
"The idea of a foreign country… you would get from the media, but most of the time, it's not a great accurate idea- it's enriching for me to know new ideas from that country directly from a U.S. native," Garcia said.
Although Holmstrup seems to trade the suburban life for the ultimate foreign experience, she misses the freedom and familiarity that Coppell offers.
"I really miss the atmosphere, our school spirit…the football games were everything," Holmstrup said.  "And not driving for 10 months, that really sucked."
Holmstrup plans to return to Coppell and attend her senior year at Coppell High School. She looks forward to reuniting with friends and family after her experience in Spain.
@chriszacuai
About the Contributor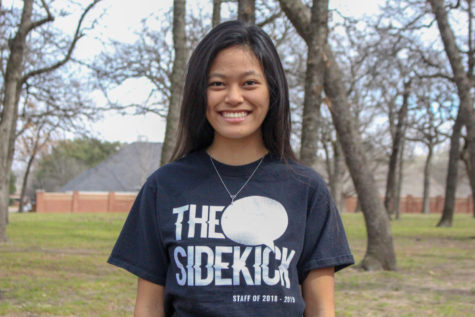 Christine Zacuai, Executive News Editor
Christine Zacuai is a senior and the Executive News Editor on The Sidekick. She is always searching for the next best pho spot and bingeing The Office....