Better conditions, better outcome
Late goals lead Cowboys to redeeming win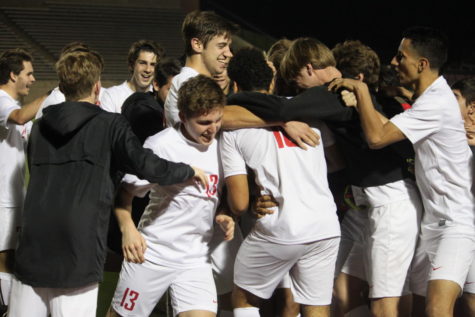 As the Coppell boys soccer team took the field against the Wildcats at Buddy Echols Field, the temperature read a cool 67 degrees with a clear sky. As the game played out, the Cowboys took advantage of this weather as they took home a 2-0 win over Lake Highlands in their District 9-6A matchup.
The game started off slow, as neither team scored in the first half. However, the Cowboys  (13-3-2 overall, 7-1-2 in District 9-6A) consistently kept possession and took multiple shots on goal, giving them a slight edge over Lake Highlands (10-4-3, 5-2-3).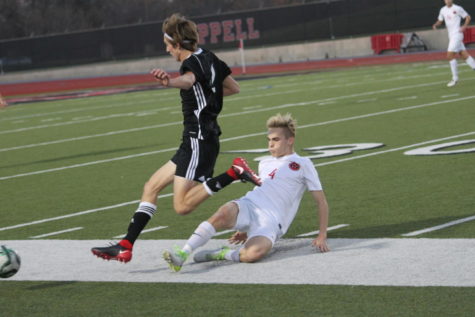 Coppell first gained the lead in the 48th minute with a goal by senior midfielder Francisco "Kiko" Redondo. After a run by the Cowboys, senior midfielder Wyatt Priest gave a right-footed pass across the net to meet the head of Redondo, who dove in to score the first goal of the game.
"[Priest] and I have been playing for almost three years now, since sophomore year," Redondo said. "We've been playing every day together and that really builds up our chemistry."
However, this connection between players is not exclusive to Priest and Redondo. It goes much deeper into the team's lineup.
"We have 22 seniors on the team," Coppell coach James Balcom said. "Many of them have been playing together as long as they can remember. At times they know exactly where each other is going to be. So for us, that connection is huge."
Later in the match, the Cowboys confirmed their win with a solo run-goal by junior defender Jacob Vasquez, making the score 2-0.
Throughout the match, the Cowboys saw a noticeable improvement from last Tuesday's match against J.J. Pearce. Due in part to the slick, foggy conditions and in part to poor performance, Coppell had difficulty making and receiving passes against the Mustangs. However, this week, pass-completion was much more consistent, giving the Cowboys not only more possession time, but also better scoring opportunities.
"I mean, we've had slick conditions, but tonight we had a cleaner game overall. Passes weren't sloppy and we completed a lot more of them," Balcom said.
But, like any match, there are things that worked and things that did not.
"We were a little sloppy in the back at times," Balcom said. "Up in the front, we have to take advantage of our opportunities. In the first half, we created multiple chances to score, but didn't. We have to capitalize on those plays."
The Cowboys will travel on Tuesday to W.T. White in Dallas to play the Longhorns in another District 9-6A match up.
About the Writer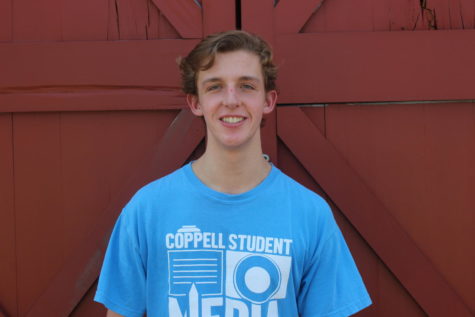 Nicholas Pranske, Executive Copy and Design Editor
Nicholas is a senior and in his third year on The Sidekick staff. He enjoys reading the encyclopedia cover to cover and polishing shoes. You can often...