Bouncing and cats, mixture for entertaining app; Dundon creates 'Meowbounce'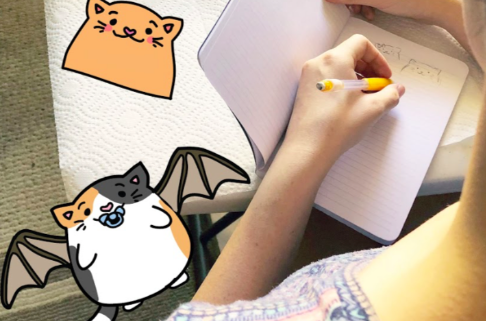 Coppell High School 2014 graduate Shannon Dundon did not think that four years after high school she would create an app that would receive 4.7/5 stars on the app store.
From its background music encouraging the player as they bounce from one land mass to another to the player's choice in customizing their cat and earning fish coins that upgrade their cats and scenery, the app oozes charm.
"I love how they used elements from other games, but add their own original twist to make it unique," Coppell High School sophomore Avina Bansal said. "I also love all the graphics and how you have options to change the cat and give it different backgrounds."
Dundon took art classes all four years of  high school under CHS art teacher Elsa Reynolds. After high school, she began to do drawings for dolls all around the world and started a business.
"I've learned a lot while making it that I'm going to use to make more detailed games, using other programs and go forward with that," Dundon said.
Dundon created all the designs for the game while her boyfriend and co-creator, Brice Viland, coded the app. The app was released three months ago and took approximately four months to make.
"It really kind of showed me what I wanted to do with my life," Viland said. "It's pretty revolutionary, how it's affected me personally and my goals."
Dundon attended the University of North Texas and majored in psychology with a minor in biology.
Endless support from her parents and being able to use her hobbies to make money has really impacted her life.
"Through this app, she is able to enjoy her artistic skills, be creative and use her psychology marketing skills," said Sharon Dundon, Shannon's mother. "She has found what she loves to do and how to make a living from it. What more can you ask for?"
Follow Anika @anikaarutla