Cowboys walk off with defeat by Pearce
The much-anticipated match between the District 9-6A boys soccer leaders – Coppell and the Pearce –  provided an action-packed show from the very start right to the dying seconds but ended with a disappointing 1-0 loss for the Cowboys on Tuesday at Buddy Echols Field.  
Though the Cowboys had been leading the district almost since the beginning with an eight-match undefeated streak, they have always found the Mustang chasing the top spot. Both teams entered the match with 6-0-2 in district.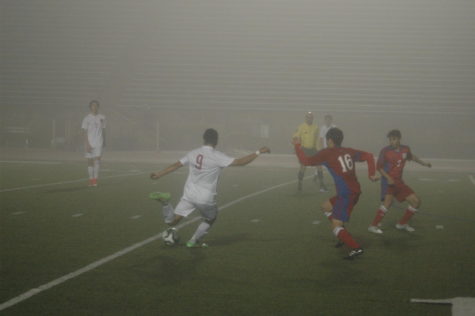 The Mustangs had been a force to reckon with an impressive undefeated streak since the beginning of the season. With 67 goals scored the entire season and state-ranked at fifth, the Mustangs added another win to their record to make its season record 17-0-4 and district record 7-0-2.
The Mustangs' win ended the long going 13-match unbeaten streak the Cowboys had and put a blemish on their district record to make it 6-1-2
Pearce senior center back  Nathan Jackson scored on a well-timed volley in the box in the 32nd minute for the match's only goal. Pearce, ranked No. 5 in Class 6A, improves to 17-0-4 overall.
The Cowboys began sending more forward balls and focused more on offense after conceding the goal, but their shots never met the back of the net.
"We have to get better technically, our passing and receiving was off tonight and I think we created many chances but we still needed someone to step up and score a goal. But I do feel like we are the better team, especially if you look at possession," Coppell coach James Balcom said. "The district title is, of course, a goal of ours but it's just a part of the process. Pearce could lose a match down the road and give us a chance to take lead again. We'll continue to take each game one step at a time"
The Cowboys' defense held up well against Pearce's dangerous fast breaks and passes, with many well made tackles and clear balls. Coppell goalkeeper Austin Simigian kept his team in the game with smart choices and challenging saves.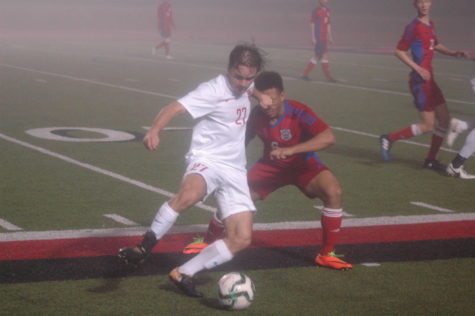 The match had a controversial moment in the second half when a sloppy tackle by a Pearce defender tripped a Cowboys player inside the penalty box but was let go by the referee, bringing on groans from the stands and crowd. If the foul was given, Coppell would have been awarded a penalty kick.
As time began to run out, the Cowboys began growing restless to make the score even. It took ahold of the possession and began playing back-to-back attacks on the Mustangs, with numerous shots and well-placed crosses from midfield and offense, but the Mustangs' defense also grew strong to push the ball out from their half.
The Cowboys play at Lake Highlands on Friday.